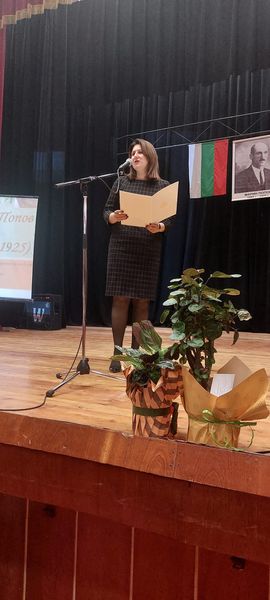 PG "Marin Popov" in Sevlievo celebrates its patron holiday with a number of initiatives. The culmination of the celebrations was today's festive concert at the Development Community Center.
For over an hour, the school's pupils and teachers delighted the guests with a poetry recital, a musical program and a short staging. In 2023, the celebrations are marked by two memorial anniversaries – 135 years since the birth of Marin Povov and ten years since the establishment of the modern school, which united two of the old educational institutions in Sevlievo.
The official guest of the celebrations was District Governor Kristina Sidorova. She turned to the high school team saying, "It is an honour for me to convey my best wishes to you on the occasion of the patron holiday of PG "Marin Popov".
Sidorova also emphasised that the relationship between land and agriculture has been rooted in the Bulgarian battle for centuries. This school is the only one in the area that is preserving them and passing them on to the children.
"In times when young people choose to turn away from agriculture and livestock, you manage to attract them, introduce them to modern methods and remind them how important they are to our homeland", said Sidorova.
She appreciated the staff's efforts, patience, and dedication to passing on their knowledge to the children. Sidorova expressed that students are the future of the two sectors important to the country and that what they have learned in their school will help them revive and renew industries.
The school principal engg, Nelly Hristova, rewarded children with high scientific and sporting achievements. Talented students and teachers recited together poems by some of the most popular Bulgarian authors dedicated to their homeland.
They also presented a short play in which a lot of humour brought the audience back to the classrooms – past and present.