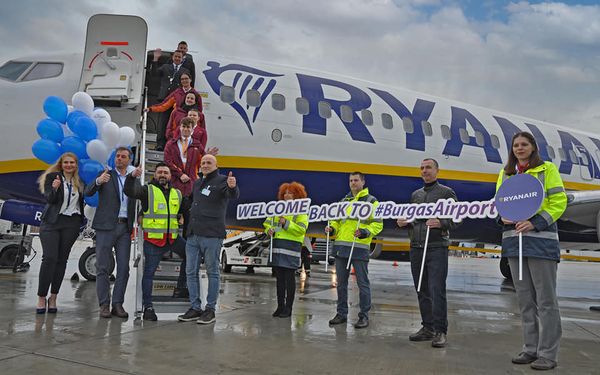 Tourism Minister Ilin Dimitrov informed that yesterday, On March 26, Burgas Airport opened the summer season with regular flights from Poland and with expectations of more traffic in 2023.
Burgas Airport welcomed 173 passengers on the first regular flight from Warsaw (Poland) this year with an attractive water arch. The flight is one of the ten routes Ryanair will operate this summer season at Burgas Airport, with three more routes: Kaunas (Lithuania), Poznan (Poland), and Dublin (Ireland).
Also this year, Wizz Air will perform flights connecting Burgas Airport with a total of 11 destinations in 5 countries, said Tourism Minister Ilin Dimitrov through his social media account.
As Burgas Airport proclaimed the start of the summer travel season, Minister Dimitrov posted pictures of the first Ryan Air flight that arrived at the airport yesterday on his official Facebook page.
The aeroplane that arrived in Burgas at the Burgas International airport had 173 passengers on board. The airport staff carried welcome banners to greet the travellers.
Minister Dimitrov remarked that as soon as 2022, growth was recorded in the Polish market compared to the number of passengers in 2019.
In 2023, more passengers from/to Poland are expected to be served at Burgas Airport. There will be charter flights from Szczecin for the first time, and Azur Air Ukraine will for the first time perform flights to Burgas from 3 Polish cities – Warsaw, Poznan and Katowice.
This season, for the first time this year, Latvia's national airline – Air Baltic, will perform regular flights from Riga to Burgas. Charter flights for Summer 2023 are expected to start in the first half of May, with the first organised tourists expected to arrive from Poland, Belgium, Netherlands, the UK and Germany.
Compared to the previous 2022, this year, a growth of passengers from the Baltic and Scandinavian markets is expected. For the first time since 2019, Charter flights from Bergen (Norway) and Gothenburg (Sweden) will be renewed.