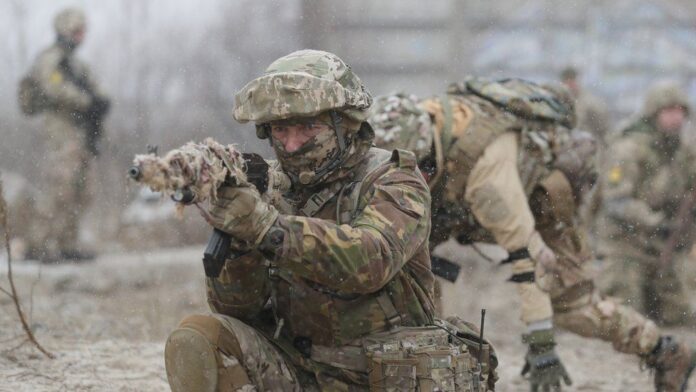 On New Year's night, 95-a separate paratroopers-Šturmova brigade met at the battle post. They reported that Russian occupiers did not lose hope to seize at least a piece of Ukrainian land, hoping that Ukrainian soldiers would lose their surveillance during the holidays.
According to the Ukrainian troops of the 95th brigade, the first day of the new year was not calm either. However, between combat tasks, the warriors found time to enjoy delicious gifts from relatives and caring Ukrainians from the big land. The strength and endurance of the paratroopers are extraordinary.
Soldiers who were directly on the line of collision didn't even think of arranging the New Year table. Although the country celebrates winter holidays, the movement of military equipment and personnel on the front roads does not subside for a moment.
Russia's ongoing attacks on the Ukrainian capital Kyiv have ruined the start of the 2023 calendar year for Ukraine. Russia attacked Kyiv at midnight with Iranian Shahid drones with "Happy New Year" written in Russian on their wings.
No residents of Kyiv were hurt or killed during the strike, according to the mayor of the city, Vitali Klitschko, since everyone was aware of the situation and cooperated with the Ukrainian government by doing what they were told.
According to President Zelensky, the battle might conclude in 2023. But a miracle is not included. The Ukrainian military is increasing its power with assistance from NATO allies to make it happen.
More than 20,000 Ukrainian service members have already undergone training abroad. Troops are trained in Poland, the Czech Republic, and Slovakia, as well as by US forces in Germany.
In particular, specialists are trained to use foreign samples of weapons and military equipment, which are received as part of technical assistance.
In addition, professional training of functional specialists is carried out in the territory of the EU: sappers, combat medics, advanced aviation and artillery gunners, divers, scouts, non-commissioned officers, radiation, chemical and biological defence specialists.