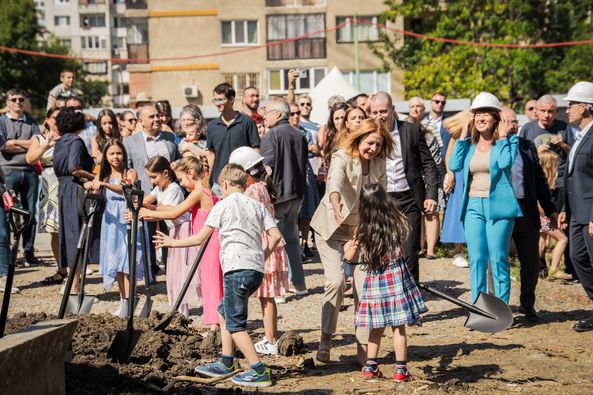 Sofia, Bulgaria: Yordanka Fandakova, mayor of Sofia, informed through her social media account that on the eve of the new school year, the Sofia Municipality made the first dig of a new school in the Renaissance district.
She emphasizes that the initiative and investments are by the Ronald Lauder Foundation and the Shalom Organization, with which the Municipality worked actively for the realization of this sizeable educational complex.
Mayor Fandakova mentioned that the plan was introduced five years ago while going to a meeting with Mr. Ronald Lauder. She said, "I knew he had an idea to build a school in Eastern Europe. I was firmly determined that I would win this project for Sofia, and we succeeded. We've gone through a lot of pitfalls and apparent stumbling blocks, but today construction begins".
After five years, the school was established. Yordanka Fandakova congratulated Ronald Lauder and his school team on successfully launching the school. She said, "There will be a new beautiful building here in two years, but the real school is created by a team of people".
The Mayor of Sofia also thanked Dr. Todor Chobanov and the Jewish community organizations in Sofia, who were part of her team and worked on the project. "It was an honour to work together! I believe this place on the street Dimitar Petkov and street King Simeon will have a wonderful school complex in 2 years", said Mayor Fandakova.
She highlighted that, in education sector, the Sofia Municipality has established a successful model for the unification of the Municipality, private entrepreneurship and non-governmental sector, by which the Municipality provide more quality places in schools. They are able to support the implementation of 6 projects for private schools.
With the support and numerous efforts done by her team, Sofia Municipality has built 140 new kindergartens and 24 school buildings in 14 years.