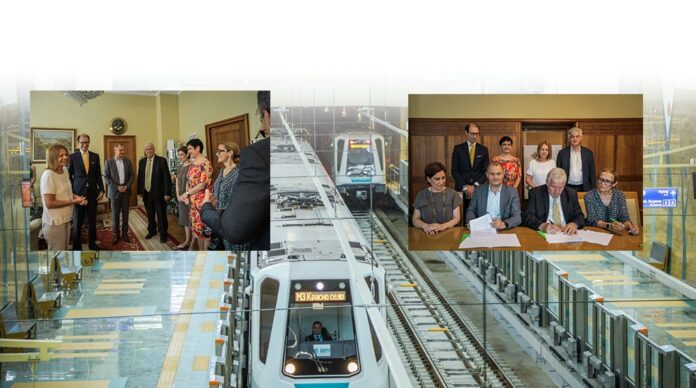 Sofia, Bulgaria: Yordanka Fandakova, mayor of Sofia, informed through its social media account that the production of eight new trains that will serve the third metro line will be manufactured and delivered by Siemens.
She commented that additional trains are needed to take over metro traffic after the completion of the line expansion along the Boulevard. "Vladimir Vazov" in "Poduyane" and through "Slatina".
Currently, the third line is 12 km long and connects the district. "Gorna Banya" from the square. "Hadji Dimitar". After the two expansions, it will be of a total length of 21 km.
Mayor Fandakova announced that the Extension to the district Levski G is already completed at 35%, and the 6 km through Slatina to Blvd. The Sofia Municipality will start "Tsarigradsko Shose" as soon as the court allows us. Unfortunately, several citizens appealed to the plan and against the construction of the entire site.
The Mayor of Sofia remarked that eight new trains have been delivered, and 30 have already been delivered; the Sofia Municipality will be able to maintain and service the entire third line with the expansion. Siemens trains have a third level of automation, equipped with an air conditioning system for passenger comfort and a video surveillance system.
Additionally, she noted that Sofia Municipality had completed the modernization of 3 power generation stations (TIS) for electric transport. They are the central unit of Sofia's power supply system of trams, trolleys and electric buses.
The modernization of stations is part of the significant OPOS project, where we have already purchased 30 new trolleys and 34 electric buses that serve 6, 7, and 9 trolleybus lines and 73, 74, 6 and 60 electric buses.
The "Yunak" correctional station, located in the Boris Garden, was built in 1932. , and its last repair was in 1971. It is now equipped with state-of-the-art Siemens facilities. Reconstructions of the other two stations – "Veslets" and "Slatina" have been completed.
Mayor Fandakova highlighted that Sofia Municipality provided them with the funds for modernization through the Environment operational program. With the new facilities, in addition to reducing technological losses, they are also building new security systems.
The buildings where the equipment is located are also renovated with new equipment, which provides the temperature and humidity necessary for their work.