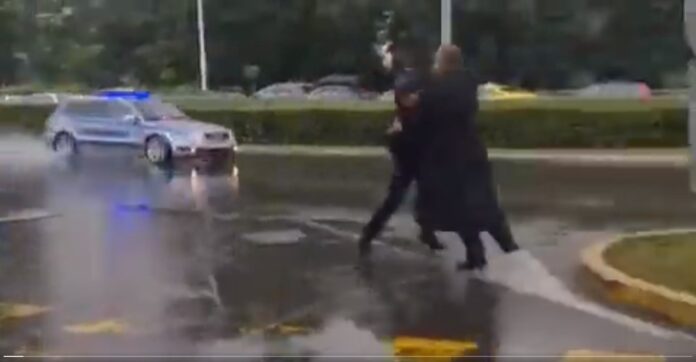 Sofia, Bulgaria: The Bulgarian security forces detained an Orthodoxian priest who tried to intercept Zelensky's motorcade and cursed him for provoking the Russia-Ukraine conflict resulting in enormous deaths since February 24, 2022.
During Zelensky's arrival in Sofia on July 6, 2023, an Orthodox priest tried intercepting his motorcade. He said cursed words to the Ukrainian President for his actions and attitude towards Orthodoxy in Ukraine.
In #Bulgaria, police detain a priest who "cursed" Zelensky's motorcade. pic.twitter.com/WOUuZcnFd2

— NEXTA (@nexta_tv) July 7, 2023
The Orthodox community is unhappy with Zelensky's government for proposing a law that would prevent a historic branch of the Orthodox Church, which is believed to be led by Putin's ally. The government accuses this church of operating under the jurisdiction of the Russian Orthodox Church and undermining Ukrainian unity by collaborating with Moscow.
The priest was later identified as Atanas Stefanov, a pro-Russian activist, politician, and self-styled head of a public association known as the Friends of Russia. He was heard chanting Anathema, Zelenskyy, fascist Ukraine, and Western Satanists and pointing a crucifix before motorcade vehicles.
Yesterday, President of Ukraine Volodymyr Zelensky visited Sofia to convince Bulgaria to send sophisticated weapons and ammunition to Ukraine. During the meeting, the Bulgarian head of state, Rumen, rejected his request for security reasons, and he clarified that Bulgaria doesn't want to escalate the conflict.
The meeting was unsuccessful for Ukraine as the Bulgarian President clearly refused Ukrainian demands to give weapons and ammunition to counter Russian attacks.
The decision taken by Bulgarian President Rumen Radev has received mixed reactions from Bulgaria and the regions of the world. The Bulgarian nationalists consider his actions as stabilizing peace by not contributing to the conflict.
According to President Radev, sending weapons to Ukraine is not a solution to end the conflict, and it does nothing instead of escalating war and another step towards global conflict. The Ukrainian President loses control during the meeting.