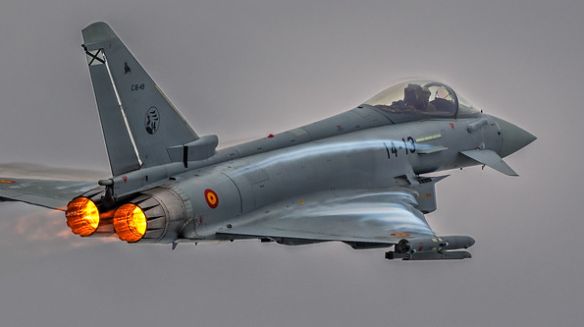 The Ministry of Defense stated that the six Spanish Eurofighter fighters will arrive in Bulgaria between mid-November and early December after Bulgaria announced the arrival of the combat aircraft. 130 military soldiers will also be on board the aircraft to conduct air police training missions. 
Fighter jets from NATO nations have previously helped to secure airspace. It's not the first time they are assisting Bulgaria for security reasons.
Four Spanish fighter jets participated in the general airspace protection in February and March. Four of the most advanced fighter jets, the Netherlands' F-35, were in Bulgaria in the middle of April. For the same mission, an American F-35 fighter plane was in Bulgaria.
However, the military branch clarified at the time that the fighter would not remain in our nation permanently. Instead, it would take part in the operation from bases in nearby countries. Over the years, Greece and Romania have also taken part. However, since the beginning of the conflict in Ukraine, NATO aircraft's general mission in Bulgaria has increased.
Dimitar Stoyanov, the acting defence minister, highlighted that "In October, the Bulgarian administration permitted up to eight fighter jets to enter and guard Bulgarian airspace. They will stay until December 23rd. It's joint airspace security in which Spanish Eurofighters assist the Bulgarian air force to ensure the security indirectly threatened by Russian aggression and attacks over Ukraine. It's not only the Spanish air force".
The news of the Spanish mission also comes raising fears that Bulgaria might lose its military aviation as early as 2023. The military has issued a warning that the MiG-29's use is restricted till the end of 2023. Before 2027–2030, the new F-16s are not scheduled to arrive. The so-called replacement combatants have little recourse.