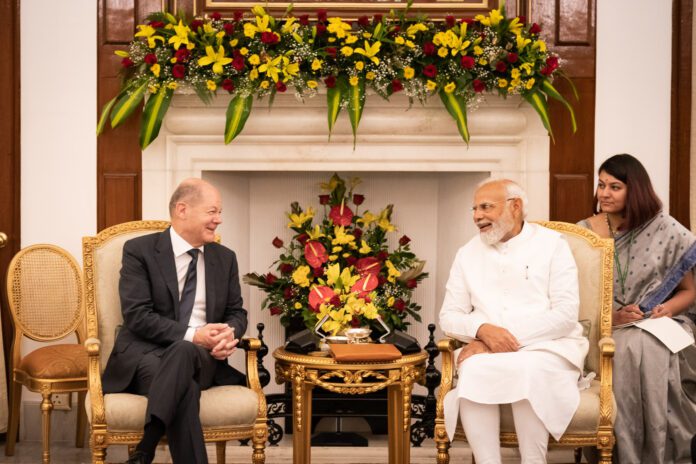 Olaf Scholz, the chancellor of Germany, noted that India has had a tremendous rise and emphasised that this is "extremely positive" for bilateral relations. At a news conference with Prime Minister Narendra Modi, Scholz stated that India is experiencing a boom in software and technology development.
Lieber @narendramodi, Deutschland und #Indien sind enge Partner und Freunde. Uns verbinden ähnliche Vorstellungen, was die Bedeutung von Demokratie betrifft. In einer Welt, die nicht unkomplizierter wird, sind verlässliche Partner wertvoll. 1/2 pic.twitter.com/9OOPFp9mXD

— Bundeskanzler Olaf Scholz (@Bundeskanzler) February 25, 2023
Almost 1800 German companies are working in India, according to Scholz, who spoke at the joint press conference. These companies have created thousands of employment.
He emphasised the collaboration between Germany and India. We have been collaborating and talking about issues, which allowed us to make crucial judgements last year when they were required, such as when it came to the G20 making decisions jointly, according to Scholz.
He continued, "I am happy India is hosting the G20 this year. It must be emphasised that this is a highly significant responsibility at this challenging moment. I do not doubt that India would do everything required in that regard".
Olaf Scholz referred to the situation as a "great catastrophe" between Russia and Ukraine. He emphasised the significant losses and infrastructure destruction brought on by the war in Ukraine.
Olaf Scholz arrived in New Delhi today to begin a trip to India through February 26. Senior government authorities and a powerful corporate delegation are with him.
According to Prime Minister Narendra Modi, India and Germany have solid ties built on a commitment to democracy and a thorough knowledge of one another's interests.
At a joint press conference with Olaf Scholz, Prime Minister Modi mentioned that the two countries have long been trading and cultural exchange.
The two leaders had earlier discussions with German Chancellor Olaf Scholz at the delegation level. Ajit Doval, the national security advisor, S. Jaishankar, the minister of external affairs, and other dignitaries were there. German Chancellor Olaf Scholz will meet with President Droupadi Murmu while he is in India.