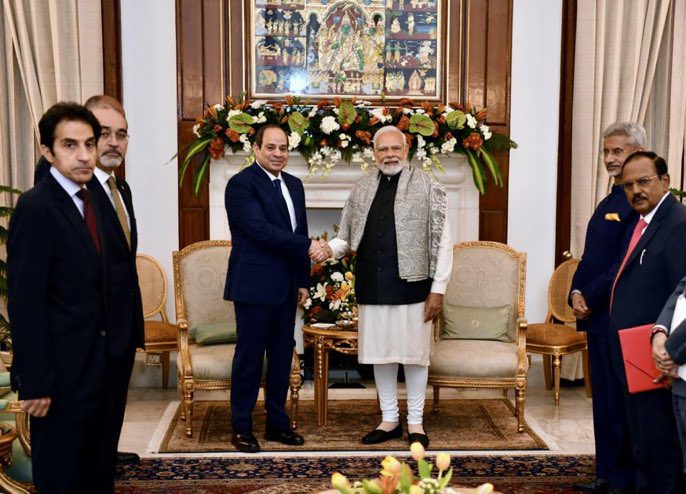 India is eagerly interested in improving relations with the Middle East. It presents India with a dual-layered opportunity and potential. India is one of the world's largest economies and consumers, which can meet Egypt's market demands.
Both nations realize the potential importance of their symbiotic connection to their respective populations. They agreed to upgrade their engagement's parameters to a "strategic partnership."
When Egyptian President Al-Sisi visited India following an invitation from PM Modi to attend the military parade marking Indian Republic Day on January 26, Indian PM Narendra Modi stressed that India had determined to transform its bilateral relations with Egypt into a strategic partnership.
Indian PM remarks, "We have decided to create a long-term platform for increased cooperation in the field of politics, security, economy, and science under the India-Egypt Strategic Partnership".
Bilateral relations between India & Egypt experienced a significant boost in recent years. Even the pandemic could not sabotage the rise of the two countries bilateral trade.
The Indian embassy in Cairo reports that trade between the two nations was $7.26 billion in 2021–2022 (USD). This was a 75% increase as compared to the previous year.
India exported products and merchandise worth USD 3.74 billion at this time, a rise of 65% over the corresponding period in the previous financial year.
More than 50 Indian companies, including well-known Indian firms like Mahindra, Godrej, and Dabur India, have made enormous investments in Egypt worth USD 3.15 billion, reported the Indian Ministry of External Affairs.
India and Egypt have also agreed to work together to eliminate terrorism threats. According to several experts, India's dispute with Pakistan, the main centre for the export of terrorism, might be strengthened by the Arab world's united stance against terrorism and its perpetrators.
Egypt is crucial for India's political and strategic needs, as well as to increase India's influence in Africa.
Egypt and India are currently setting out on a journey that will transport them back to when they were the cradles of highly advanced civilizations and the envy of the entire world.