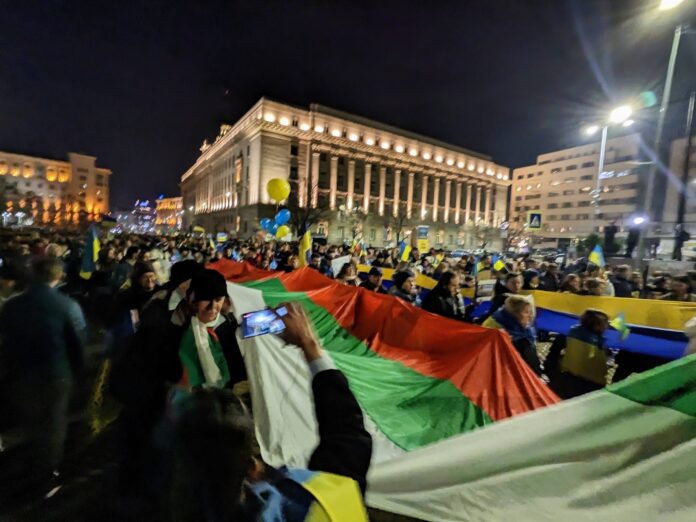 Hundreds of people gathered in Sofia this evening to show solidarity for Ukraine and denounce Russian aggression and Russian assets there. The demonstration aimed to persuade the Bulgarian government to increase aid and supplies to Ukraine, which has been under Russian attack for a year.
Germany, France, Poland, the Netherlands, and other EU nations pledged to support Ukraine until Russia withdrew its troops from Ukrainian territory. The demonstrators requested President Radev in Sofia to offer Ukraine military assistance in order to help that nation fend off the Russian invasion.
The demonstrators contend that if Russia ceases to exist, the war will be finished, but if Ukraine ceases to exist, there won't be any Ukraine. Russian airstrikes, particularly missile attacks on non-military civilian sites, resulted in more than 7,946 civilian casualties, according to Ukrainian intelligence.
The protesters also claim that Russian agents were working nonstop in the Bulgarian administration to block help from getting to Ukraine. They subtly challenged President Radev, who vehemently opposed sending arms to Ukraine and said doing so would be like adding fuel to an already-flaming fire.
According to him, the only way to bring about peace and put an end to the war that has increased the risk of a global conflict is through a ceasefire and peace negotiations.
Bulgarians who were protesting alongside Ukrainian refugees claimed that Ukraine was the only country standing in the way of Russia's invasion of Europe and that if they were successful, other Balkan nations like Bulgaria, Estonia, Slovakia, Moldova, and other nations bordering the Black Sea would be threatened.
Thus, it's critical to prevent Russia from annexing Ukraine. Ivalyo Mirchev, a Bulgarian lawmaker, pleaded with President Radev to deliver Ukraine military hardware made in the USSR in exchange for contemporary Western hardware.
He explained that Bulgaria has a wonderful opportunity to modernise and strengthen its military in order to repel any attacks in the future.