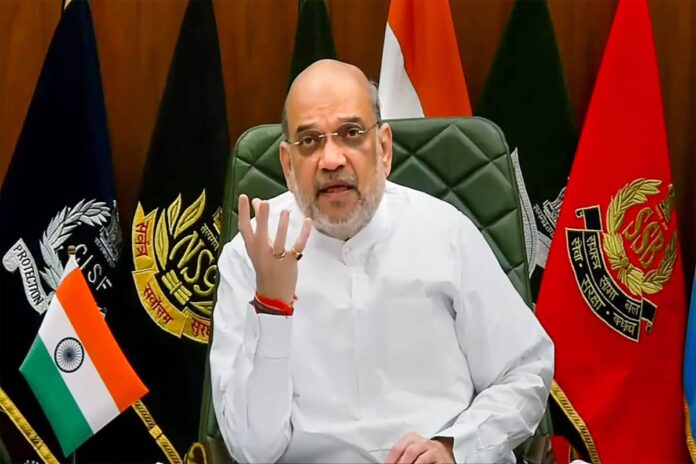 "Peace is being established in Jammu and Kashmir, and the Union Territory is once again returning to its old civilization and customs following the repeal of Article 370," stated Amit Shah ,Union Home Minister of India.
During the video conferencing inauguration of the Maa Sharda Devi Temple in Jammu and Kashmir's Kupwara region, Shah claimed that the Modi government is refurbishing several temples and faith centres for the revival of culture in Jammu and Kashmir.
On August 5, 2019, the Government repealed Articles 370 and 35(A) from the former state, resulting in the division of Jammu and Kashmir into two Union territories, Jammu and Kashmir and Ladakh.
Shah remarked that Sharda Peeth had been a historical centre of India's cultural, religious, and educational legacy, and that the Modi government will work to open Sharda Peeth to devotees in the same way that the Kartarpur Corridor had been.
In keeping with the Modi government's commitment to social and economic development, Shah stated that the Modi government had made measures in all parts of Jammu and Kashmir, including the resuscitation of culture, restoration and repair work at 123 selected temples and Sufi shrines.
In the first phase, 35 locations are being refurbished at a cost of Rs 65 crore, while 31 mega-cultural activities are being prepared by identifying the locations of 75 religious and Sufi saints.
A total of 20 cultural festivals have also been collected in each area, which would assist resuscitate the historical history, according to Shah.
Shah began his speech by wishing his compatriots a happy new year and stating that the inauguration of Maa Sharda's temple marked the beginning of a new era.
He went on to say that the renovation of Maa Sharda's temple in Kupwara was a significant step towards finding Sharda culture and popularising the Sharda script.
Several dignitaries, including Jammu and Kashmir Lieutenant Governor Manoj Sinha, were present. Shah praised Sinha's efforts, saying that the fervour with which he has laboured to implement all of Prime Minister Modi's main projects is commendable.
Sinha has played a crucial role in bringing industrial investment to Jammu & Kashmir under Prime Minister Modi's leadership.