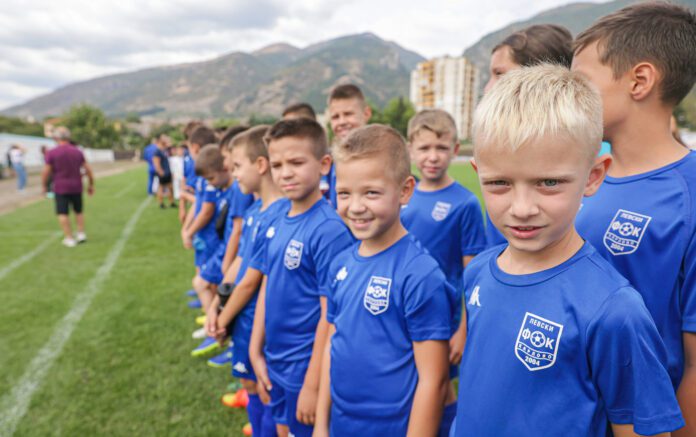 Karlovo, Bulgaria: Hundreds of children in Karlovo took part in the European Week of Sport 'BeActive', reported the Bulgarian Ministry of Youth and Sports through its social media account.
Karlovo participated in the European Week of Sport 'BeActive' with a football meeting and demonstrations of wrestling, judo, sambo, weightlifting and aerobics. The event is part of the BeActive Tour initiative, which aims to engage children's interest in sports by providing them the opportunity to observe and participate in sports games on their spot.
The event was also attended by world and European junior swimming champion Peter Mitsin and world wrestling champion Ivo Angelov, who participated in the football meeting. From Monday, September 25, 2023, the campaign BeActiveTour started in Karlovo and continues with the Open Doors Day at Pulse Fitness Clubs.
The campaign was launched by the Minister of Youth and Sports, Dimitar Iliev. "Sport teaches us a lot. It teaches us discipline, to play honestly and to work hard. Gives us self-confidence and self-confidence. A healthy lifestyle is essential; we keep our body and mind healthy through sports. Live actively and do sports," said Minister Iliev.
He further remarked, "I am pleased to be among you because I see hope. I see future great athletes who will warm the hearts of all Bulgarians with medals from the largest sports forums. I believe that each one of you has great potential and talent to become a great athlete. Thank you to all of you who play sports and work tirelessly every day. This is the only way to achieve success," said the Minister of Youth and Sports, Dimitar Iliev.
He thanked all the federations, clubs and athletes who joined the European Week of Sport. "You are the real example. You are the people to be followed," Dimitar Iliev added.
The campaign was also launched in Kyustendil, and selected moments of the programs were broadcast on screen in both cities.
Ambassadors of the event were Olympic boxing champion Stoika Krasteva, winner of four Olympic medals in sports gymnastics Jordan Yovchev, world and European junior swimming champion Petar Mitsin, the bronze medalist of the World Fencing Championship Joana Ilieva and the world champion in artistic gymnastics (team) Eva Brezalieva. A guest in Kyustendil was the Olympic champion with the rhythmic gymnastics ensemble Erica Zafirova.