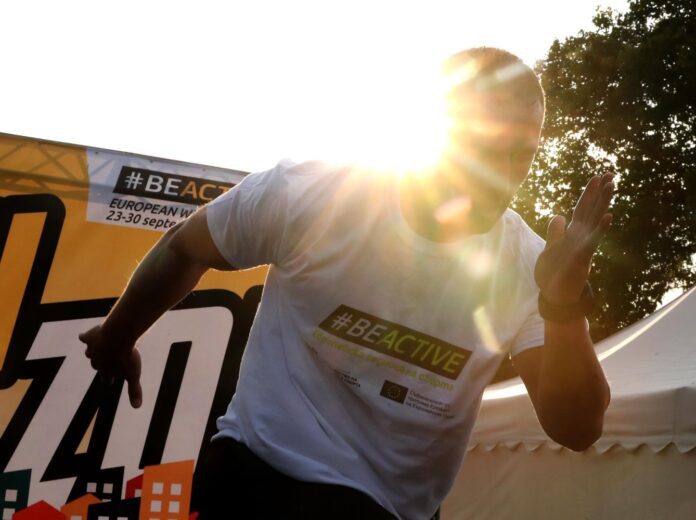 Sofia, Bulgaria: The Bulgarian Ministry of Sports and Youth informed through its social media account that European Sports Week "Be Active" will start tomorrow and continue until September 30, 2023. 
The Ministry of Youth and Sports is organizing a European Week of Sports BeActive for the ninth consecutive year. Between 23-30 September, there will be a number of sporting initiatives and events to promote active sports, improve the population's physical activity and encourage healthy eating.
The initiative will start in Sofia on September 23. Sports Village and Night of Sports "BeActiveNight" will be waiting for friends of sports between 4 PM and 9 PM in front of the National Palace of Culture, where sports clubs and federations will present their activity through demonstrations and informational materials.
 The official opening will take place at 6:00 PM. It will be held parallel in Kyustendil. Selected elements of the program will be broadcast on screen in both cities.
This year, the European Week of Sports motto is "All Together for Sports", and the initiatives will be held in Sofia, Kyustendil, Stara Zagora, Yambol, Nessebar, Byala (Varna Region) and Montana.
BeActive is an initiative of the European Commission to promote the sport and physical activity of EU citizens. The National Coordinator for Bulgaria is the MMS, and the implementation of the project is funded under the European Union's Erasmus + program.
Following is the schedule of the European Week of Sports taking place in the heart of Bulgaria starting tomorrow- 
September 23, 16.00 h. – 18.00 hrs, in front of the National Palace of Culture – BeActive Sports Village;
September 23, 18.00 h. – 21.00 h, in front of the National Palace of Culture – Official opening of the European Week of Sports and holding the Night of Sports BeActiveNight;
September 24 – Open Day at PULS Fitness Clubs;
September 25-29 – BeActive Tour in the cities of Stara Zagora, Karlovo, Yambol and Nessebar;
September 30, 10.00 – 2.00 h. , South Park – A sports event focused on sports that can be practised outdoors in the parks – group yoga activities and recreational games.
October 1-15 – BeActive in the country – Sports events in the country under the motto of the European Week of Sports 'BeActive'. The cities of Biala, Varna district and Montana awarded by the Association of European Capitals and Cities of Sports (ACES EUROPE) with the prize in the category "European Small Town of Sports 2023" and "European City of Sports 2023".