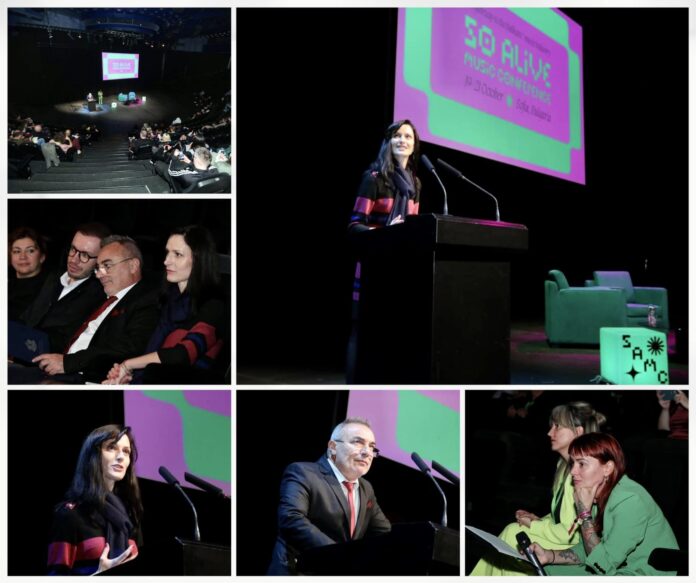 Sofia, Bulgaria: Mariya Gabriel, Deputy Prime Minister and Minister of Foreign Affairs, opened the large-scale international music conference "SoAlive". She is also the sponsor of this programme. The event takes place on October 19, 20 and 21 in Sofia.
"With innovations and young people, the Balkans can become a centre for developing the music industry." With these words, DPM Gabriel began the event.
She commented that she is happy to start this event again with the Minister of Culture Krstu Krastev, who continues the excellent cooperation in supporting culture and creativity in Bulgaria.
The Foreign Minister thanked organizers Ruth Koleva and Mila Georgieva for their positive spirit, energy and vision. The goal of "SoAlive" is to present Bulgarian culture and musical creativity and position the country as an essential centre in the European music industry.
The SoAlive music conference is another opportunity for discussion about strategies, initiatives and ideas in the field of cultural diplomacy. She demonstrates the power of music and the arts and their integral role in creating a narrative that showcases the cultural richness of regions around the world.
The conference brought together representatives of major music companies such as Warner Music, Ninja Tune, and Global Records, experts from YouTube and Spotify, and organizers of famous European and international festivals – Mad Cool, Live Nation Madrid, and more.
DPM Mariya Gabriel expressed that "SoAlive" is different in that it emphasizes the cultural and historical heritage of the Balkans.
The aim is to promote this heritage and, at the same time, help access artists from the Balkans and Southeast Europe to the broader European music market. It's essential here to take advantage of the opportunities of the digital era, as new technologies remain at the heart of the music industry's growth.
Foreign Minister Gabriel highlighted that attracting young talent into the sector is equally important. The link between culture and innovation is the key to making the industry more attractive and dynamic, offering more prospects for young people's career development.