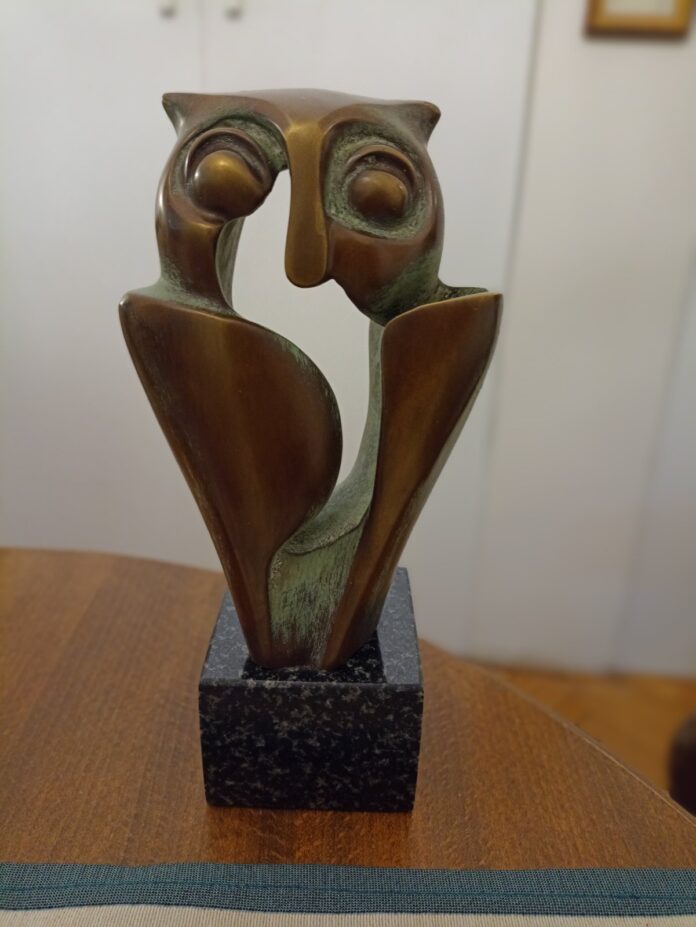 On June 13, 2023, in Vasil Gerov's "National Donation Fund "13 Centuries Bulgaria" received a donation from sculptor Diana-Maria Rainova. It contains works by her father – estate and cosmopolitan sculptor Boyan Rainov, her mother – sculptor Stella Rainova, and her plastic.
The artist Boyan Rainov (1921 – 2005) was born in Sofia, but he is more known in France, where he has lived for many years. He is the son of the writer, art historian, philosopher and, artist, academician Nikolay Rainov and is the brother of Bogomil Rainov. Graduates from the Art Academy in Sofia, majoring in "Mural".
The drawing included in the donation – "Beauties and the Beasts" by Paul Elouard (1947), was performed in mixed media (ink, watercolour) and participated in the artist's first solo exhibition in Paris, where he lived from 1947 until the end of his life. Stella Rainova (1919 – 2001) graduated in Sculpture at the Academy of Arts, Sofia, in the 1940s.
In 1946, she left with her husband, Boyan Rainov, for France, where she completed a three-year internship at the Academie des Arts in Paris. The artwork that Diana-Maria donates to the Fonda was created by her mother in 1970 – Face, polished bronze, marble. The donor provided for the Fonda's collection and her work – "Owl" (patinated bronze, black Gabro), created in 1999.
She is the author of the trademark of the Christ G. National Literature Award Danov", which is presented annually on behalf of the Ministry of Culture. Diana-Maria Rainova was born in 1947 in Paris. Graduates of "Sculpture" at NHA under Prof. The Greatness of Minekov. She is the founder of the Nikolay Rainov Foundation.
The documentary biographical novel of writer Ted Todorov – Boyan Rainov was also presented at the ceremony of accepting the donation. Master of Affection", published in 2023.
Executive Director of the NDF "13 Century Bulgaria", Mrs Bisera Yosifova, accepted the donation with gratitude and assured the donor that it would be a significant part of the Fund's permanent collection.
The celebration ended with a musical greeting of the royal, donated by Prof. Vasil Gerov, performed by the 10-year-old granddaughter of Diana Rainova – Leda Ignatovic, a pupil of the Lyubomir Pipkov National Music School.