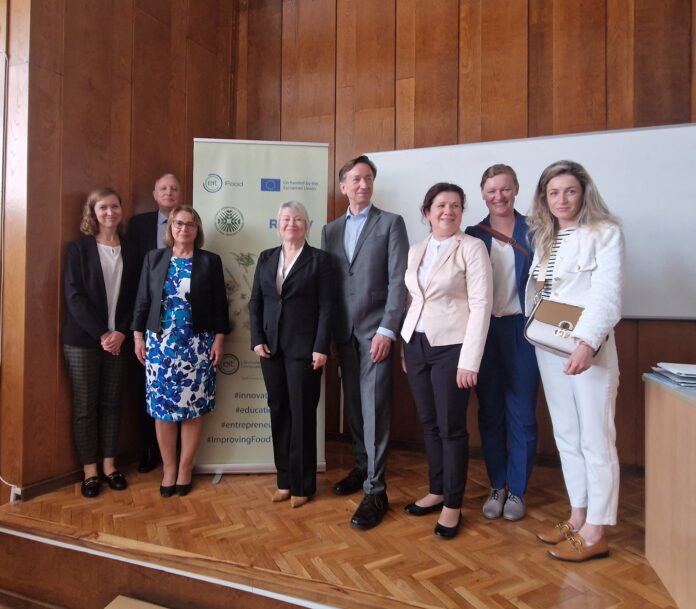 Plovdiv, Bulgaria: On May 22, a delegation led by the CEO of EIT Food, Dr Andy Zinga, met with the student and teaching community, representatives of business, science, innovators and institutions at the invitation of the Agrarian University in Agricultural University Plovdiv, and RAPIV, Varna.
The theme of the meeting was "Innovations in the Agro-Food Sector – Building Synergy for Better Opportunities". In front of a full audience, Dr Zinga and EIT Food Director for Northeastern Europe Maria-Lisa Maurice presented European strategies to develop innovation in the agro-food sector and bioeconomy, training support and EIT Food funding programmes.
The institute's goals are to help develop solutions to global food challenges, accelerate the deployment of innovation, educate and prepare future experts, and forge new food models and habits: the rector, prof dr. Hristina Yancheva and vice-chancellor Prof. Dr Vladislav Popov introduced guests and audience to the Bulgarian ecosystem, progress and development prospects in the context of education and the expansion of intersectoral cooperation.
Professor Popov pointed out that the close links between science, education, business and institutions guarantee progress in the agri-food sector and the creation of innovative and sustainable solutions.
An example of successful innovation demonstrated by startups in the exhibition area. Digital innovative solutions for precision and regenerative agriculture, organic and alternative proteins, mobile apps to reduce food waste, and plant biostimulants were part of the innovations Bulgarian startups have implemented in the country.
Dr Zinga and Prof. Popov awarded students who participated in the Challenge Lab innovative idea competition, encouraging the youth to upgrade their knowledge and skills and be bold in their ideas.
The event continued with a roundtable discussion with experts from the Ministry of Innovation and Growth and the Ministry of Agriculture, Deputy Mayor of Plovdiv Stefan Stoyanov, Rector of MU-Plovdiv Prof. Mariana Murzhdeva, teachers from UHT-Plovdiv, scientists from the Center for Plant and System Biology and Biotechnology, representatives of Rakovski and Brezovo municipalities, Thrace Economic Zone, businesses and startups.
Participants discussed the Innovative Strategy for Intelligent Specialization in the context of Bulgaria. A handbook on the Strategy developed by EIT Food was also presented, in which Prof. Vladislav Popov participated in an expert assessment. The close cooperation between science, education, business and institutions was again at the centre of the debate.