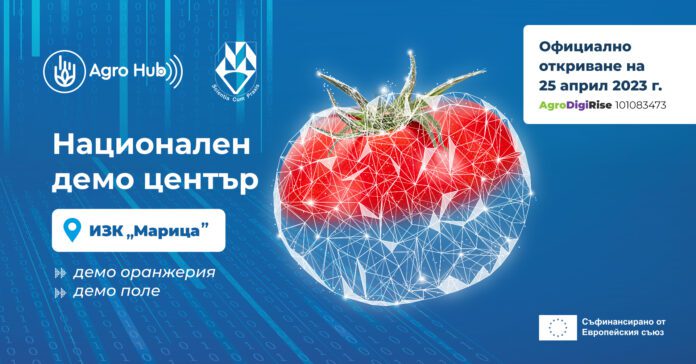 Maritza, Plovdiv: On April 25 is the official opening of the National Demo Center for Digital Solutions in Agriculture of the European Digital Innovation Hub AgroHub.BG. The event will start at 10:30 am on April 25 at the Institute of Vegetable Cultures / ISK / Maritza in Plovdiv.
The demo centre is the first of 16 demonstration points built on Bulgaria's territory within the framework of funding under the Digital Europe program AgroDigiRise project with a focus on precision agriculture, in which Agrarian University – Plovdiv is a partner.
The consortium of 14 partner organizations aims to develop the potential of the agro sector by providing access to technological solutions and a range of services driving digital transformation.
This first demo machine is part of the technological infrastructure of the European digital innovation hub AgroHub. BG will provide farmers and small and medium-sized enterprises with the "testing before investment" service free of charge.
This is part of the hub's rich portfolio of services. It will provide access to new technologies at work and demonstrate their possibilities and benefits, allowing for the optimization of costs, resources and processes in agribusiness—this way, farmers can make informed decisions to deploy new technologies.
Partners at AgroHub. BG and the hosts of Maritza IZK have prepared a beautiful program saturated with demonstrations of technology and new knowledge and skills.
All visitors can take Demo Tours of the Institute's transformed greenhouse to test and learn more about the new precision irrigation, nutrition and climate control equipment.
A specialized workshop will peek inside the peculiarities of precision farming to seek answers to visitors' questions. The Agri Tech Dictionary briefing module will introduce media representatives to definitions of basic concepts related to technologies in the agro sector.
Among the program's highlights is a discussion forum to help everyone who wants to invest in innovative technologies – the critical moments of the Strategic Plan of Bulgaria and practical guidelines for using its investments.
The program envisages three more parallel segments related to "smart decision" making, using farm-generated data, their processing and practical use, recipes for precise tomato fertilization depending on the plant development phase, and a workshop demonstrating a "smart" vineyard software solution – the best adviser to vinegrowers at the right moment, led by ASC—Dr Lyudmil Angelov from Agare University and Bevine.
Guests of the event will also have the opportunity to taste the wines produced in the Studied-Experienced Winery of the Agrarian University of Tasting, led by the Head of the Cellar Lambrin Topuzliev.