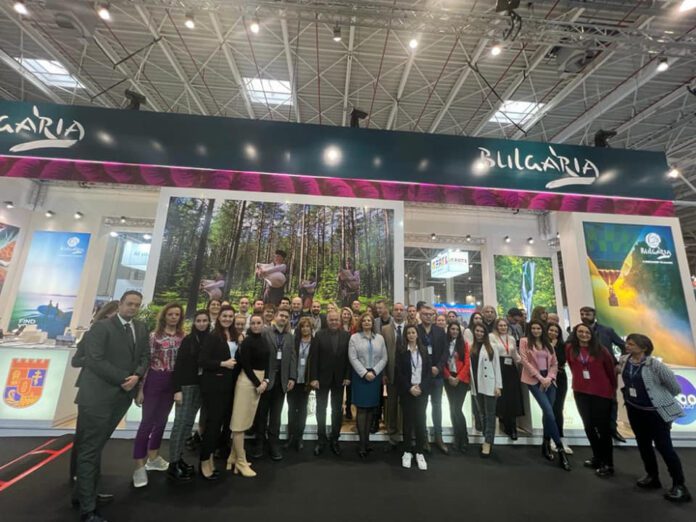 Tourism Minister Ilin Dimitrov reported that Bulgaria appeared with the largest booth at the TTR exhibition in Romania. The booth is 250 sq.m. m (for comparison in 2022) and used to be 150 sq ft m) and 32 companies from Bulgaria participated.
Yesterday was the opening of the TTR International Tourism Exhibition, which takes place in Bucharest, Romania, on February 23-26, 2023.
TTR is the most significant event in Romania for tourism, being held for the 47th time in 2023. Minister Dimitrov remarked that the exhibition was open to both professionals and the mass public and presented the latest and interesting tourism offers from home and abroad.
Professor Modeva participates as the head of the Bulgarian delegation. She greeted the organizers and guests of the event and stressed that Romania is one of the most important destinations for incoming tourism in our country.
Tourism Minister proudly declares that Bulgarian stand this year is really impressive. In response to the outstanding interest from the tourism industry in Bulgaria, the frame organized by the Ministry of Tourism during the spring edition of the exhibition has been increased to 250 sq.m. m (for comparison in 2022), which used to be 150 sq ft m).
This year 32 companies and municipalities such as Silistra Municipality, Bansko Municipality, Museum "House of Humor and Satire", Regional Ethnographic Outdoor Museum "Etar", Municipality of Gabrovo, Museum of Architectural and Historical Reserve "Bozhentsi", as well as other representatives of the administration and the private sector.
Dimitrov remarked that on the first day of the exhibition, it became clear that TTR's guests were impressed by him. Our Romanian neighbours show increased interest in marine, SPA and wellness, cultural, wine, gourmet, ECO and rural tourism.
He stated that Romanian tourists appreciated the Bulgarian Black Sea coast but also visited the whole country, according to the data.
For the period December 1, 2022 – February 11, 2023, which includes the Christmas and New Year holidays, about 35,000 registrations of Romanian tourists in accommodation locations have been recorded (data on one-day Romanian tourists and transit-passers have not been published, and with them, the number of Romanian tourists in Bulgaria would increase significantly).
In 2022 a growth of 24.7% compared to 2021, according to data from accommodation locations and the number of registrations of Romanian tourists. Regarding transit-free visits for 2022, we see an increase of 52.1%. The overall growth of all visits with and without transit is 44.2%.
Recently, many Romanians have chosen a family vacation in Bulgarian winter resorts for their children's student holidays.
Minister Dimitrov highlighted that Bulgaria's appearance with such a large booth and strong business participation is a definite request to be a leader in tourism services in Romania.