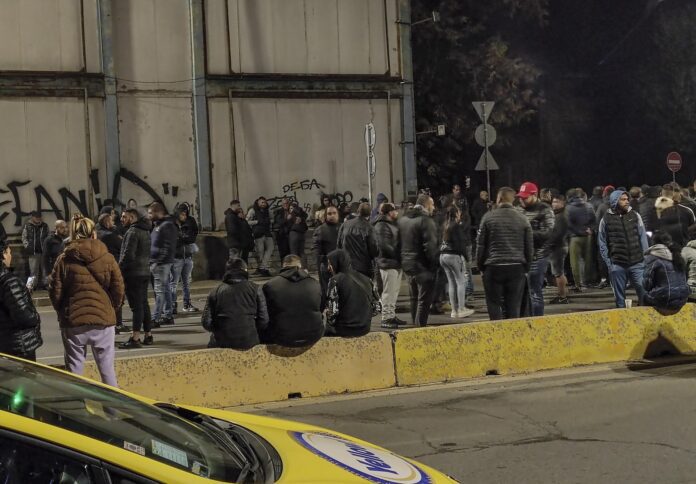 After their colleague Hristo Traikov was stabbed yesterday night in the Sofia neighbourhood of "Rassadnika," taxi drivers are preparing a large-scale protest. The drivers gathered in front of the Third Regional Police Department in the capital to protest. At night, they also halted traffic on Orlov Most, demanding that the Ministry of Internal Affairs carry out its duties and stop criminals who murder innocent people. Krasimir Tsvetkov, chairman of the National Taxi Union, stated that while the blockade was lifted shortly before 7 a.m., the protest's attitude has not changed.
On Saturday night in Sofia, a brawl over a minor accident resulted in the death of a 34-year-old cab driver.  The conflict occurred in a residential area at the junction of the narrow streets "Riben Boukar" and "Hushov." Right in front of the First General Hospital St. Sofia. The sources claim that the man got into a brawl with a 23-year-old driver after accidentally knocking each other's cars slightly.  The criminal has a history of methamphetamine use and driving after consuming alcohol.
When the medics arrived, they started CPR. The causes of the cab driver's death are being investigated. The 23-year-old male, the other fighter, was taken into custody by the police.
The Eyewitnesses, known as "Trud," stated that a little girl was driving a car when it entered a one-way street. A taxi was operating opposite and breaking the rules. The roadway is one-way, so the female driver's companion ordered the taxi to turn around. In the ensuing argument, there were blows exchanged. The two eventually ceased exchanging blows. The cab driver, however, made calls to colleagues and coworkers. The approaching "reinforcement attacked the passenger from the other car." Witnesses stepped in and stopped the fight. The cab driver, however, unexpectedly fell to the ground.