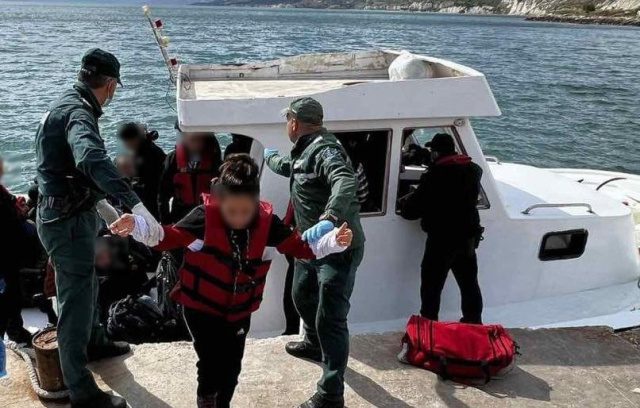 Border security Guards rescued 38 Refugees in the Black Sea, including a Baby. The refugees are mostly Afghans and Syrian nationalists. The interior ministry reported that 38 people, including 22 men, eight women, eight children, and a baby, were brought safely to the Bulgarian shore by Border Police yesterday morning in a complex operation carried out in the Black Sea. It is expected that the refugees were trying to reach Romania. This is the first incident that has happened in the region since 2014.
The Blue Border Surveillance Information System detected an object heading toward the Romanian border at 6:25 a.m. in the region east of Cape Shabla. Operators tried to contact the vessel, but they didn't give any response.
After feeling something suspicious, the border Police immediately headed in the direction of an unidentified ship sailing to Romanian borders. The GKN from GPU-Kavarna was sent along the coast for surveillance.
The border Police vessel reached the unidentified boat at 10:00 a.m., and the inspection team boarded it. Inside they found 38 Syrian and Afghan nationalists. The border guards stayed on board to safeguard the migrants' safety while they made their way to the port of Kavarna because the poor weather made it impossible to transfer the passengers from the boat to the border ship.
Communication was kept open with the Romanian Coast Guard during the operation concerning the European Border and Coast Guard Agency Frontex's currently running Multipurpose Maritime Operation "Black Sea 2022" in Romanian and Bulgarian waters.
Many refugees from various countries entered the Bulgarian borders in recent days. Ukrainian refugees who fled from their land also entered Bulgaria due to the ongoing war with Russia. The government placed around 60,000 refugees at beach-front resorts during the low season at places such as the Melia Sunny Beach Hotel. Some of them were also kept in Harmanali, the biggest refugee camp in Bulgaria, located 60 kilometres from the Turkish border.