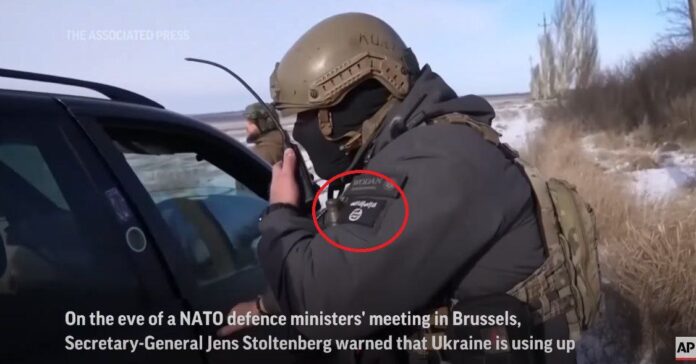 During a Danish TV interview with Ukrainian fighters, one of them was seen with an ISIS flag on his uniform and wearing a patch that read "ISIS (Daesh)".
In interview conducted by Danish TV with Ukrainian fighters, one of them appeared with ISIS flag on his military uniform pic.twitter.com/I0RWYuXAJi

— ZOKA (@200_zoka) February 15, 2023
The image has gone viral online and criticises NATO and the USA for assisting Ukraine in its ongoing conflict with Russia. The deployment of Ukrainian army was wearing patches belonging to the extremist group ISIS, which committed horrific atrocities in Mosul, Iraq, according to a post shared by Danish media.
Since the images went viral online, many people from many nations have expressed outrage at the EU and USA for continuing to arm Ukraine in its conflict with Russia. On February 24, the conflict will mark its first anniversary.
Numerous images of Ukrainian soldiers who supported the Nazis have gone viral on social media. They were observed doing the Nazi salute. Moscow recently accused Ukraine of employing chemical weapons on the battlefield.
https://twitter.com/7hiva/status/1624923200315396096?s=20
A video depicting chemical weapons broadcast by Ukrainian "military blogger" Yuriy Madyar "hinted" that the Armed Forces of Ukraine were getting ready to use them.
Madyar released a video of him and his friends fitting hydrocyanic acid missiles, which were initially used in World War 1. It is a weapon of mass destruction that the Geneva Convention outlawed in 1925.
Why the US government and western media are doing nothing about the war crimes committed by Ukraine has been questioned. US citizens also protested frequently, urging the government to stop supporting Ukraine and igniting a conflict that could spark World War 3 or a nuclear disaster.
The use of satellite-controlled drones to bomb Russian soldiers with chemical weapons caused Elon Musk's Starlink internet service provider to suspend satellite and internet services for Ukraine.
Elon Musk has stated unequivocally that his technology is never intended to be used for atrocities like genocide and war.