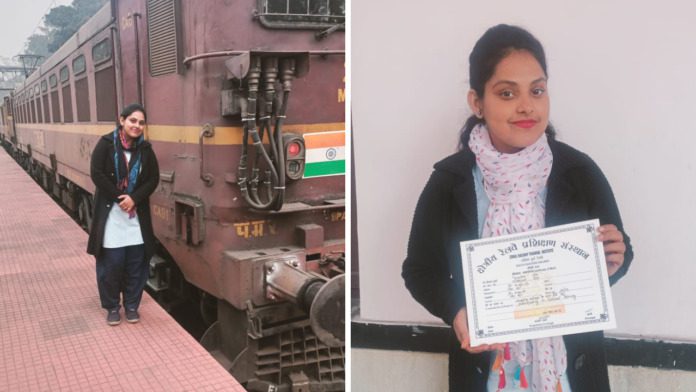 Agartala: Debalina Roy, a student from Tripura's Ramnagar, is the first woman from the state to pass the Indian Railways test and has since been hired as an assistant loco pilot and is prepared to operate trains.
Debalina Roy described it as a dream come true event in her life and expressed her satisfaction in her remarks. She claimed that she had wanted to work for the railroads ever since she was a young girl. Roy said her desire to help the trains utilised by millions of Indians to travel frequently, while being overcome with passion and delight.
Roy noted in a recent interview that she vividly recalls the day she was getting ready to take a civil service exam when she came across an advertisement by the Indian Railways.
She claimed that after passing the prelims in 2018 and attempting the mains later, she made the decision to practise writing tests for technical roles, and as a result, she was chosen. She was the first person in the entire state to pass the exam. Therefore the reaction to her social media was overwhelmingly positive.
She added that because the railroad is a powerful platform, being chosen for it would achieve her objectives. Roy emphasised that no place should be reserved for female applicants who are qualified for the role and that gender identity should not be a factor.
According to her, both men and women must work equally hard in the current world to contribute to the creation of a stable, financially independent household. "The role that I am being selected for would be quite different for the people to digest, but the times have changed," she continued.
When questioned about her exam preparations, Debalina Roy added a comment and emphasised that she studied independently for four months. Additionally, it was said that after seeing the job advertisement, she sought advice from a few of her seniors to grasp the position. She described it as a roller coaster ride.
She also expressed her resolve and desire to serve as the assistant loco pilot, despite the fact that transporting passengers from one end to the other may be difficult.