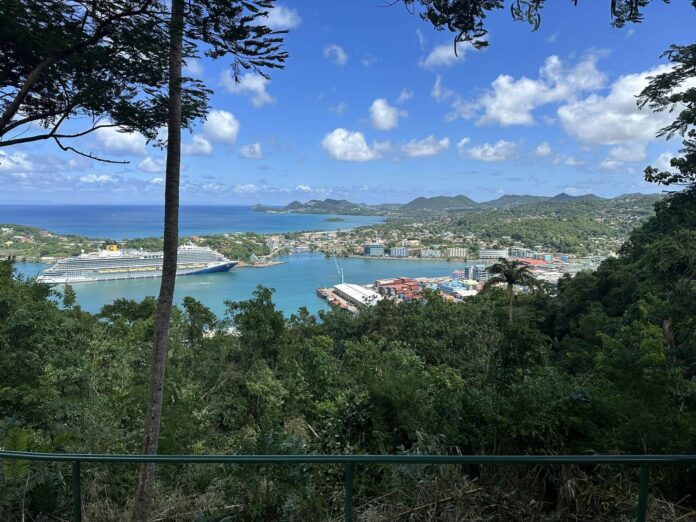 Castries, Saint Lucia: Deputy PM and Minister of Tourism Ernest Hilaire announces the temporary opening of Morne Lay-By, a "must-stop viewing point" which has been serving tour operators and vendors over the decades.
The original structure was compromised and no longer able to be accessed safely. That's why the Tourism Ministry of Saint Lucia had to decide to demolish it and is now preparing to construct a new one.
Minister Hilaire publicized through his social media account that the Tourism Ministry immediately moved to establish a temporary space to allow vendors to continue their business.
He thanked the Permanent Secretary, staff, and the architect for the urgency with which they attended to this project. Tourism Minister Ernest Hilaire also appreciated the vendors for their cooperation.
The Ministry of Tourism of Saint Lucia and the Morne layby vendors have agreed and established a new alternative site, located several yards north of the Morne layby and directly opposite the Governor General's entrance gate.
This new site is designed to serve vendors and tour operators and offers a magnificent view of the Castries Harbour and the north of the island. It has toilet facilities and provides a safe space for vending opportunities.
The Morne Layby scenic point is a must-visit spot for tourists as it offers a magnificent view of Castries City, the harbour, and the Bay of Castries. The viewpoint is situated on a stable, new wooden structure, and it was recognized as an attractive vantage point.
The road leading up to the viewpoint is not too wide and winding, which may need to be more suitable for pedestrians. Before reaching the viewpoint, visitors will find souvenir shops in their path.
As per historicals, the viewpoint was called Morne Fortune Lay-by and was initially named Morne Dubuc. During the French colonial era, it was renamed to its current name.