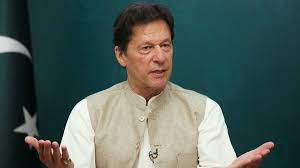 In a news conference on Sunday, Pakistan's Minister of Information and Broadcasting Marriyum Aurangzeb accused Imran Khan, the former prime minister and leader of the Pakistan Tehreek-e-Insaf (PTI), of being a terrorist rather than a politician.
According to Aurangzeb, Khan's home in Zaman Park is a "bunker of terrorists and laboratory for petrol bombs," according to Geo News. She further said that Khan had turned into a terrorist who had assaulted government buildings since he lost power in April of last year.
A civil war, according to Aurangzeb, would break out if the authority of the government, courts, and security forces were undermined. She stated that if Imran were let to flout the law, gangs, terrorists, and hooligans would appear out of nowhere and attack the courts and police.
Due to the violence that broke out within the building during yesterday's hearing, Aurangzeb chastised the court for allowing Imran Khan to sign in from his car.
The PML-N leader also asserted that, in order to settle political scores, Khan imprisoned all political rivals throughout his administration, even detaining their sisters and daughters.
Khan is accused of ruining the economy, rendering people jobless, and denying them access to nutritious food. During the PTI's administration, she argued that the skyrocketing costs of basics like flour, sugar, cooking oil, power, and gas tariffs severely impacted the average person.
When the Pakistan Democratic Movement (PDM) government took office last year, Aurangzeb stated, they had the option of arresting Imran Khan but decided against it because they did not want him to "play the victim card."
The declaration came after mayhem at the PTI Chairman's Zaman Park mansion, where party supporters and law enforcement had been engaged in a standoff for more than 14 hours.
A Pakistani court revoked Khan's arrest warrants in the Toshakhana case on Saturday. Due to the unfavourable circumstances, the hearing was postponed until March 30.
Imran Khan was given the directive by Additional Sessions Judge Zafar Iqbal to guarantee his attendance at the upcoming hearing. In the midst of tension between the police, the judge marked Khan's attendance outside the G-11 Court Complex and then permitted Khan to depart.