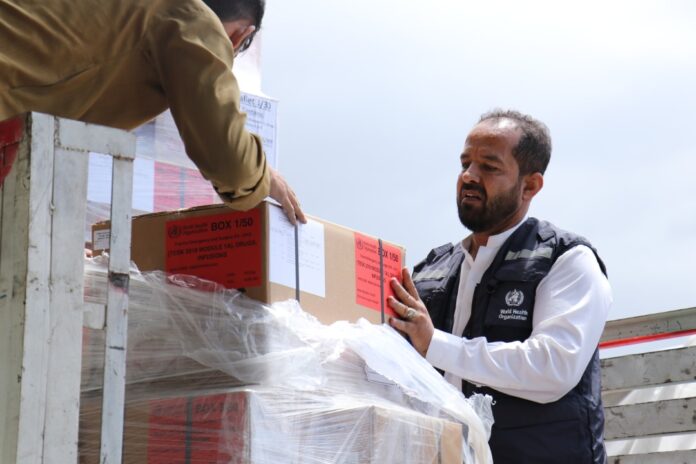 World Health Organisation sent assistance of 9.8 tonnes and 95 cubic meters of medical supplies to Afghanistan, who recently got hit by a 5.9 magnitude of the earthquake. 
The humanitarian assistance includes – 30 emergency health kits, 50 surgical kits & other meds to treat the wounded people at hospitals. 
Meanwhile, providing updates on the current situation of the country, the official account of WHO Afghanistan stated, "Paktia Reg'l Hosp is taking care of patients injured from the earthquake, many are women & children. Thirty-seven patients received trauma care, and five critical patients were sent to Kabul hospitals. WHO teams are working with the hospital on mass casualty mgt, providing care & supplying meds". 
As per the updates, the first UNHCR convoy left Kabul today with shelter tents, blankets and other relief items to initially protect 4000 survivors in Khost and Paktika Provinces and meet their immediate lifesaving needs. More aid is on its way.  
Several dignitaries expressed their grief on the demise of thousands of Afghans who lost their lives in the earthquake. 
The Secretary-General of the United Nations, António Guterres, tweeted, "My heart goes out to the people of Afghanistan following the devastating earthquake which has claimed hundreds of lives. The United Nations is fully mobilized & our teams are on the ground, assessing needs & providing initial support. The UN and humanitarian partners are on the ground providing emergency assistance following this morning's 5.9 magnitude earthquake". 
At least 1,000 people have lost their lives, as per the official record. whereas more than 1,500 people have sustained injuries. Mohammad Amin Huzaifa – the head of the Information and Culture Department in hard-hit Paktika, stated, "People are digging grave after grave. People are still trapped under the rubble". 
People are still not able to believe the devastating impact caused by the earthquake.