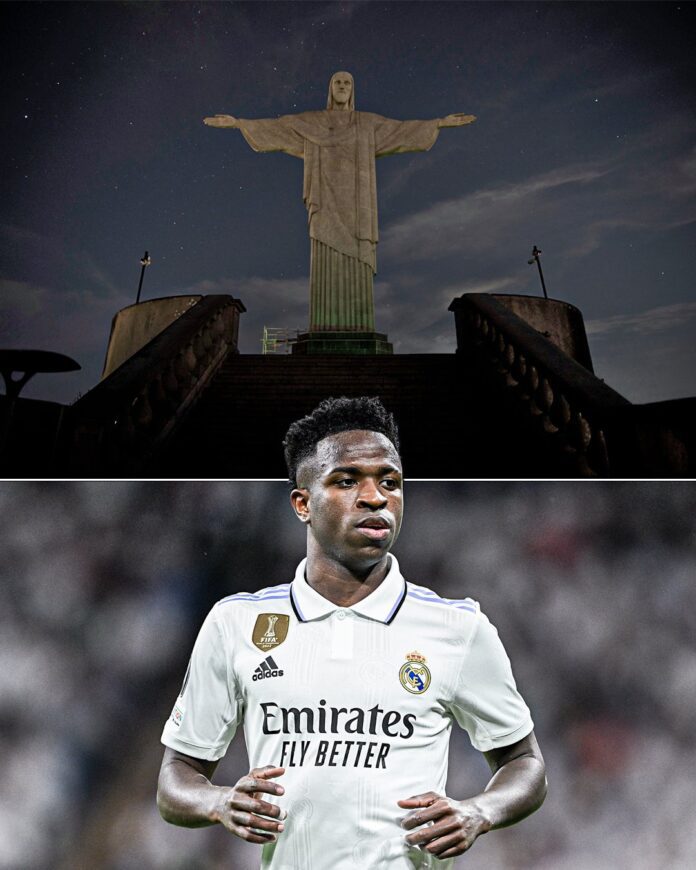 Rio de Janeiro, Brazil: The lights on the Christ the Redeemer statue were switched off last night in solidarity with Vinicius Jr. The Real Madrid Forward suffered another incident of harsh racism during the La Liga match against Valencia at Mestalla Stadium. 
The lights on the Christ the Redeemer statue were switched off last night in solidarity with Vinicius Jr. 🇧🇷 pic.twitter.com/Ci60nRxvPv

— ESPN FC (@ESPNFC) May 23, 2023
He appreciated the action made by Brazil to support him and said, "Black and imposing. Christ the Redeemer was just like that. A measure of solidarity that moves me. But I want, above all, to inspire and bring more light to our struggle".
Standing firmly against the act of racism, Vini Jr. said that he has a purpose in life and is ready to suffer more and more so that future generations don't go through similar situations. 
The incident triggered a comparison between La Liga's and Premier League's management. The comparison mentioned that in England, the EPL and English FA can punish clubs and fans for incidents of racial abuse. They can even impose points deductions, match bans and fines. People guilty of racism will be banned from all stadiums in England. 
La Liga, on the other hand, cannot enforce sporting sanctions. The cases are investigated, and the proof is passed on to the justice system. Based on the legal outcome of the case, a sporting sanction may be imposed.
During the match against Valencia, the Real Madrid forward faced harsh racism. Valencia supporters vocalised racist chants and called him Monkey. Everything started after Valencia's goalkeeper got involved in a brawl with the Brazilian. 
The match official sent off Vinicius by giving him straight red card. On social media, Real Madrid supporters demanded action against the match official for biased decision-making and not sending off Valencia's player choking the Brazilian from behind. 
Vinicius highlighted that it was not the first time he got racially abused since arriving in Spain. Accusing the management, he noted that Racism is normal in La Liga. He demanded quick action and a change in the administration to prevent racial abuse in the future, as it spoils the reputation of Spanish football. 
Casemiro, former Real Madrid midfielder currently playing for Manchester United, supported his national teammate. He posted a picture of himself with Vinicius in Brazilian uniform. He urged that Racism is becoming common in Spanish competitions, and the management has taken no actions to prevent such activities. 
The Brazilian, who played nine seasons for Spanish giant Real Madrid, highlighted that racial abuse spoils the reputation of Spanish Football, which can further result in lowering the signings to Spanish clubs. Casemiro also demanded a permanent and quick solution to eliminate racism from Spanish competitions. 
Several players from different leagues, including Premier League, Seria-A and Ligue-1, came forward in support of Vinicius Jr. against racial abuse, demanding justice for him and taking strict actions against those promoting racism and abuses.