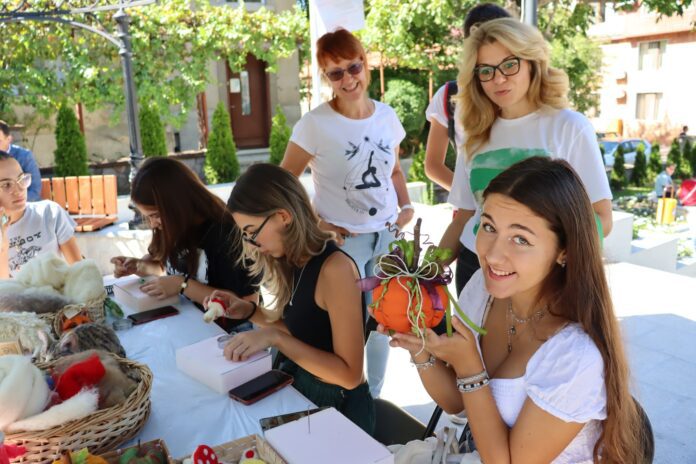 Haskovo, Bulgaria: Dozens of children and young people with curiosity, mood and charge participated in the workshops at Artcraft Fest yesterday. The approach to the Monument of the Holy Virgin has been transformed into a space for arts and crafts.
Here, Maria Bialkova showed how Bulgarian stitches are embroidered, Katerina ART taught children to lay wool, Cali showed how to weave on a small apartment, and textile decorations came to life in the hands of Sylvia Predova.
Sweet temptations of healthy products were prepared by the children together with Svetla Terzieva, and Galina revealed the subtleties of making candles and soaps. The artistry and decorations of clay products are strictly monitored by the artist Borislav Danev-Borku.
Participating in the workshops is free and highly energizing, friendships and lots of new art knowledge. The workshops are part of Artcraft Fest, which is implemented under the project BGCULTURE-2.002-0026 "ARTCRAFT" with financial support provided by Iceland, Liechtenstein and Norway.
The support has been delivered under the Financial Mechanism of the European Economic Space 2014-2021 through Program PA 14 "Cultural Entrepreneurship, Heritage and Cooperation", Result 2, "Improved Access to Arts and Culture".
Artcraft Fest is a joint project of the Municipality of Haskovo, DKT "Ivan Dimov", "Alliance for Regional Cooperation and Development", and North Consulting (Iceland).
Today, the art workshops continue. This time, they are at the Arch Park Kenana from 10.00h. The program continues until the end of the week with diverse and non-traditional events.