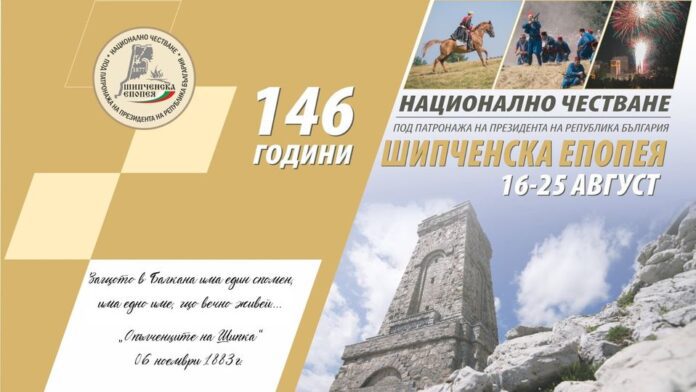 Gabrovo, Bulgaria: Regional governor of a region with administrative centre in Gabrovo made an announcement through her social media account that National celebration Shipchen epic will be held from August 16-25, 2023.
With a rich program and initiatives for young and old, Gabrovo will honour the 146th anniversary of the epic battles and celebrate the 140th anniversary of writing the ode "Shipka's Comrades." Thousands of Bulgarians will gather again "on the mountain that the sky supports blue with its shoulders" to worship in front of the Monument of Freedom.
The celebrations will begin on August 17 in Gabrovo with the presentation of the exhibition "The Participation of Bulgarians from Besarabia in the Bulgarian Oath in the Russian-Turkish Liberation War". Its official opening will be at 5:30 pm at the HG "Hristo Tsokev".
A day later, on August 18, children and young people will take on a stair climb to the Monument of Liberty. More than 100 will participate in the race, which is an annual part of the celebrations.
Traditionally, after the awards, it is the turn of an open history lesson, as this year, the youth will meet with the Bulgarian History team to learn curious information about historical monuments and the associated events.
On Friday, August 18, the most official part of the National Celebration of the Shipka Epopeya – the Solemn Dawn – will be held again, which will begin at 8:40 pm at Renaissance Square.
On Saturday, August 19, hikers can take part in one of three routes to the Monument of Liberty. Starting points are m—a rosehip. The hikes initiated by the Rotary Club will go to the peak, where the National Guard section will await the participator.
The ceremony of laying wreaths and flowers starts at 11.00, and minutes later, at the Monument of Freedom, the Shipka-Buzludzha National Park-Museum " exhibition "Flight to Freedom" will be opened.
The program continues at 12.00 with one of the most anticipated events – the restoration of the battles by the National Tradition Society, which this year will present two living paintings – the Battle of the Eagle's Nest and day three of the battles, immortalized by Ivan Vazov in the Shipka Ode.
The campaign "Be a Soldier" will also arrive at its glorious peak. The Land Troops and the Joint Special Operations Command will present weapons, communications, parachuting, alpine, and vehicle equipment.