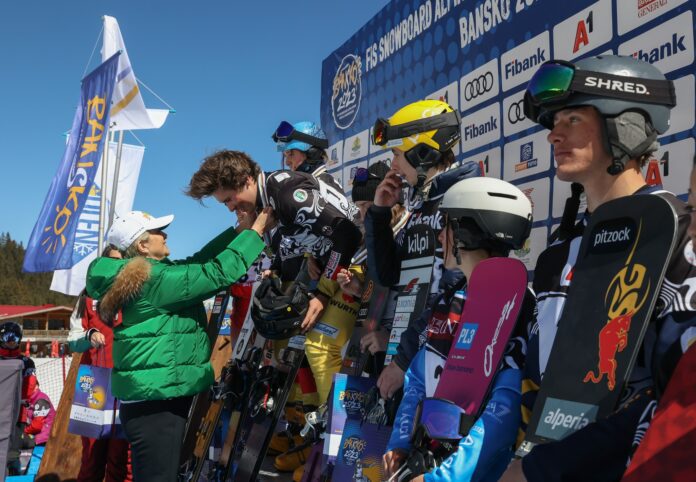 Germany has won the last gold medal at the Bansko Youth Snowboarding World Championship. Max Kuenhauser and Salome Jansing defeated the Swiss Nicola Meiser and Florina Baecchi in the final. Bulgaria performed in the mixed team race with three doubles.
Peter Gergovski and Yordanka Andonova are 16th, Tervel and Savina Dimitrova are 20th, and Alexander Krishnyak and Yana Tumbeva are 25th. The winners in the team were personally awarded by the Minister of Youth and Sports, Vesela Lecheva, who watched the finals of Banderishka Polyana live.
"This championship gives a lot of hope for the 2026 Olympics." At this age, it was seen that we have an exceptional generation, and it was not by accident that Bulgarian snowboarders took all individual distinctions. After Sani Zhekova and Radoslav Yankov comes to a very talented generation, which I hope we will also see on the world podium in men and women," Vesela Lecheva said.
The Minister of Youth and Sports also praised the hosts, who are making a second major competition this season.
"Bansko once again proved to be a perfect organizer of big competitions. After the World Cup earlier in the year, the resort was able to host an excellent World Youth Cup, Lecheva added.
Vesela Lecheva wished health and success to the young talents of Bulgaria and the injured Andrea Kocinova – a speedy recovery.
Among the spectators was the big 2016 World Cup winner, Radoslav Yankov. The championship was officially closed by a Council member of the International Ski Federation and President of BFSki Tseko Minev.
Bulgarian snowboarders remain in Bansko, where the state championship will be held on the 27-28. Bulgaria finished first in the medal ranking in Bansko. Our young talents won 2 titles through Tervel Zamfirov (PGS) and Peter Gergievski (PSL), as well as two silver medals from Alexander Krishnyak.
Christian Georgiev supplemented the excellent performance of our fourth-place PSL, and Gergyovski was also fourth but on PGS. The second place in medals is for Switzerland with a title and a silver medal. Germany ranks third for the title in the parallel slalom team race.