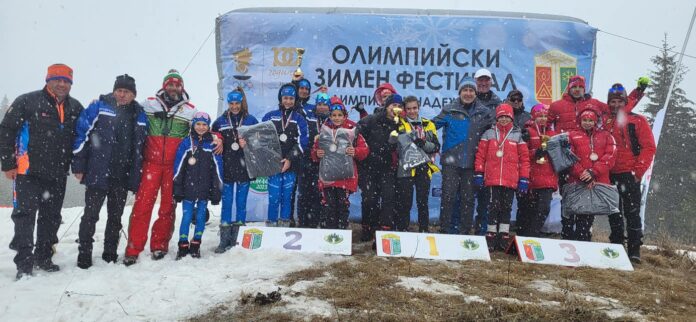 In the ski zone "Mechi Chal," – Chepelare began the competitions for the second part of the eleventh Winter Olympic Festival, "Olympic Hopes – Biathlon and Ski-running 2023". The biathlon (sprint) races were held on March 11. 
The location was at the upper station of the Mechi Chal lift. For those wishing to support the participants, the competitions continue tomorrow at 9:30 am in the k. to. Pamporovo, on the way to the village. The stands where the sprint ski race will be held.
Boys and girls from clubs attended the biathlon competition at the festival in the country in age groups:
U12 – boys and girls / born 2011-2012 /
U14 Boys & Girls Junior / born 2009-2010 /
The ranking is individual, with the winners in particular age groups in the biathlon awarded first, second and third place.
The classified participants and clubs by age group are as follows.
Rankings guys:
1. Denis Tuyov – Sapareva Bath
2. Benjamin Pavlov – Ajax
3. Ivan Kotirkov – Bansko 2019
The winners were awarded Belcho Goranov – General Secretary of the Bulgarian Olympic Committee.
Girls rankings:
1. Nikol Gaberova – Bansko 2019
2. Hristiana Bankova – Sapareva Bath
3. Ivayla Kyurkchyska – Sapareva bath
They were awarded by Boran Hadzhiev – Mayor of Chepelare Municipality, and a long-term biathlon coach, including the national team and personal coach of the golden Ekaterina Dafovska.
Ranking of junior-age boys:
1. Alexander Andreev – Ajax
2. Alexander Yakimov – Ajax
3. Marin Todorov – Sapareva Bath
The winners awarded Ekaterina Dafovska – Chairman of the Rozhen-Chepelare 2016 SC, the first and only so far Olympic biathlon champion for Bulgaria for 25 years.
Ranking of junior girls:
1. Tsvetelina Genkovska – Ajax
2. Maria Jovichina – Sapareva Bath
3. Siana Muglova – Ajax
Borislav Pankov: Secretary General of the Bulgarian Biathlon Federation awarded them.
For many of the children, these were the first starts in the winter that started and went with little snow. Still, nevertheless, suitable conditions were created for conducting the race among talented young beatlonists of Bulgaria.
Boys and girls from the clubs in the country age groups are eligible to participate in the ski competition at the festival tomorrow:
U12 – Boys & Girls / born 2011-2012 /
U14 Boys & Girls Junior / born 2009-2010 /
U16 boys & girls senior / born 2007-2008 /
Since its establishment, these competitions have been a serious test for many Bulgarian sporting hopes, later established in national teams participating in the Youth Olympics and European sporting forums.