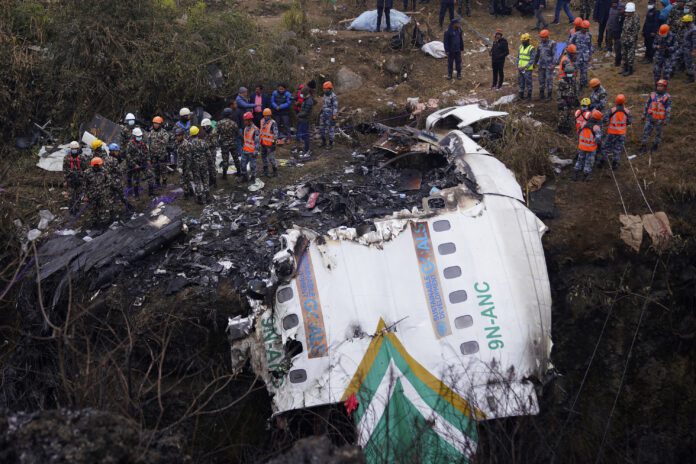 The families of those killed in the Pokhara, Nepal plane tragedy received sincere condolences from the Bulgarian Foreign Ministry. The plane with 72 passengers on board crashed yesterday in Pokhara as it was getting ready to land at Nepal's Tribhuvan International Airport.
Sincere condolences go out to the families of all the people who perished in the #Pokhara, #Nepal plane crash. 🇧🇬 extends heartfelt sympathies and solidarity to everyone affected by this devastating tragedy.

— MFA Bulgaria (@MFABulgaria) January 15, 2023
As seen in various viral internet videos, the aircraft caught fire at the right engine, supporting the theory that an engine failure caused the tragedy. Later, it lost control and was engulfed when it hit the ground.
Immediately after arriving on the scene, the fire department and rescue personnel announced that no passenger had survived the terrible collision. The aircraft had 68 passengers and a crew of four. They were primarily from Nepal.
Five Indians, four Russians, an Irishman, two Koreans, and four Russians were on board the aircraft, according to Nepalese authorities.
There was also a prior report of one citizen from each Australia, France, and Argentina. The family members of the passengers who perished in the tragedy received condolences from the Bulgarian Ministry of Foreign Affairs. It was the deadliest crash in Nepali history.
The accident's cause is being looked into as flames could be seen flowing from the plane's right engine. It is assumed that an electrical malfunction or fuel leak caused the disaster.
Nepal plane crash near #PokharaAirport caught on camera from ground, these visuals show the plane engine caught fire 🔥, which may have been a bird hit after which it just went down tilted. #NepalPlaneCrash #Yeti pic.twitter.com/9ZTwZDE5At

— The Voice Of Citizens®️ (@tVoiceOfCitizen) January 16, 2023
The incident has sparked concerns about the manufacturer companies' safety, and security practises of Nepalese airlines. In Nepal, it was the deadliest plane accident ever reported in 30 years.
There were rumours that Bulgarian nationalists had also boarded the aircraft. However, it was determined during the investigation that there were none. 53 Nepalis, five Indians, four Russians, two from South Korea, one from Australia, and one each from Argentina, Ireland, and France were killed in these horrific plane crash.
The Bulgarian Ministry of Foreign affairs remarked that a devastating accident resulted in the deaths of numerous people. The ministry paid tribute to the victims and suggested their family members stay strong during grief.