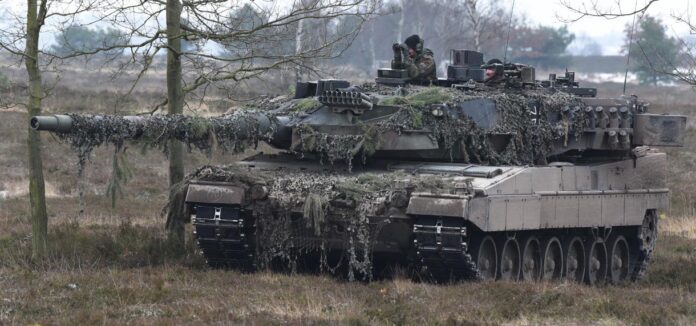 The General staff of the Armed forces of Ukraine informed that Germany had handed Ukraine another batch of aid for the front – Leopard 2A6 tanks, BMP Marder and mine tanks, as indicated by the updated aid list on the website of the Federal Government of Germany.
The AFU emphasises that The Federal Government of Germany supports the Ukrainian military in close coordination with its partners and allies.
This list contains an overview of the military support handed over to Ukraine by Germany. It includes shipments from the Bundeswehr as well as shipments from German industry funded by German Federal Government funds for so-called security potential development.
Following is the list of assistance provided by the Federal Government of Germany to Ukraine to counter Russian aggression
– 18 Leopard 2A6 tanks with ammunition
– 40 Marder infantry fighting vehicles with ammunition
– 2 armoured repair and evacuation machines for armoured bergepanzer 3 (based on Leopard tank 2)
– 2 WISENT 1 mining tanks (based on Leopard 2 tank)
– 24 zetros trucks (previously 28)
– 40 thousand first aid kits (previously 120 thousand)
– 103 thousand turnips.
Funding for the security potential building initiative is €2.2 billion by 2023 (after €2 billion by 2022). Funds will be directed primarily to support Ukraine.
At the same time, they will be used to finance Germany's increased compulsory contributions to the European Peace Fund (EPF), which in turn will reimburse EU member states for expenses while supporting Ukraine.
Supply from industry reserves is funded by German funds to increase security potential. Some supplies require upgrading, or production is ongoing; training activities are underway.
On his social media account, the armed forces of Ukraine appreciated the support and help of Germany during the time of crisis.
Deliveries from industry stocks financed by German funds for security capacity building are expected to arrive soon. Some of the deliveries require ongoing upgrades or productions, also training measures to take place.