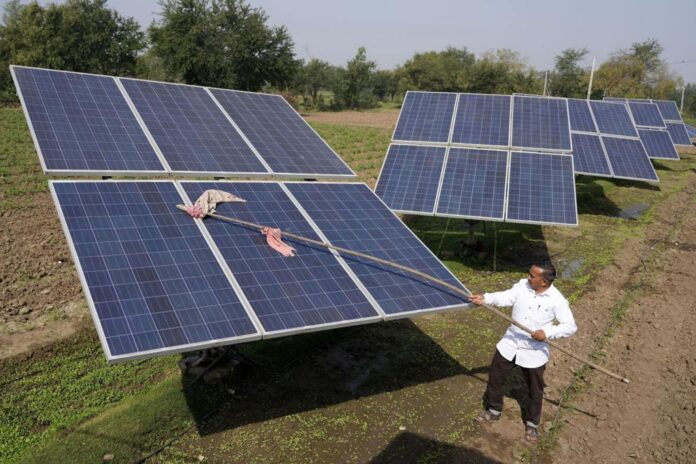 The solar panels, wheat, and rice, have been lining Pravinbhai Parmar's farm in Gujarat state in western India for six years. He is one of a select group of farmers in his native Dhundi village who have been irrigating crops with solar electricity.
Parmer spent about 50,000 rupees ($615) each year on irrigation for his crops. Since he started using solar electricity and selling excess energy for 4000 rupees ($50) a month, Parmer now has no expenses.
Gujarat is just four of India's 28 states to have achieved its 2022 renewable energy goals. Fewer than half of the states have installed their goals, while others, like West Bengal, have installed only 10%.
Over several years, more than 70% of India's electricity has been produced from fossil fuels nationwide. Currently, renewable energy supplies 10% of India's electrical requirements.
India installed 168 gigawatts of coal-fired electricity from 2001 to 2021. The country's federal power ministry's electricity demand is expected to increase by up to 6% annually for the next ten years, necessitating the search for alternative, clean energy sources.
According to research by the Global Energy Monitor, India is one of the world's top seven nations for potential renewable energy. By deploying 76 gigawatts of solar and wind power by 2025, it is anticipated that over 78 million tonnes of coal will not be used yearly, saving up to 1.6 trillion rupees ($19.5 billion).
The country fell short of its goal to add 175 GW of renewable energy to its total power output by 2022. According to experts, India needs to develop clean energy at a much faster rate than it is now accomplishing to achieve its 2030 renewable energy objective of installing a total of 450 gigawatts.
The Indian government has defended its use of coal and energy transition policy numerous times, claiming that the country's energy security depends on it. Currently, the government-owned corporation Coal India Limited uses 82% of the nation's total coal production to produce energy.
To fasten the shift to renewable energy, it is important to develop energy storage, pass more progressive policies, such as the $2.6 billion government programme that supports the production of solar energy components, and ensure that these policies are implemented.
According to Madhura Joshi, an energy expert at the climate think tank E3G, "new rules like the energy conservation bill as well as revised mandates imposed by the federal government that make it compulsory for electricity providers to purchase renewables bring hope.
She added, "It is necessary to accelerate the installation of renewable energy sources and related infrastructure."
India has a 2070 net zero aim, but reforms must be made now to achieve this," she continued. Our ability to use renewable energy must be expanded quickly.
Renewable energy is now cheaper. When compared to 2011, when solar energy cost 12 rupees (14 cents) per kilowatt-hour, it now costs 2.5 rupees (0.03 cents) per kilowatt-hour in recent year.