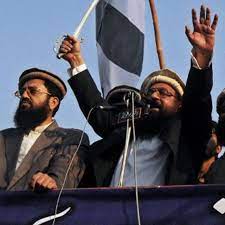 Abdul Rehman Makki, a terrorist living in Pakistan who was spotted independently planning events to support terrorism against India, was designated a global terrorist on Monday by the United Nations Security Council (UNSC).
He was also charged with planning the terrorist attacks on 26/11 in Mumbai, the "dream city" of India, which left 166 people dead, including security officers.
Hafiz Saeed, the leader of Lashkar-e-Taiba (LeT), and his brother-in-law Makki planned and carried out the 26/11 Mumbai attacks with assistance provided by ISI and the Pakistani deep state.
India and the global fight on terror have won since China was compelled to lift the technical hold and add Makki to the UNSC's ISIL (Da'esh) and Al-Qaida Sanctions Committee list.
A technical hold by China in June 2022 prevented Makki from being enlisted despite earlier attempts by India and a joint bid by the United States and India. For the past six months, China has persevered, making it difficult for the current government to maintain the confidence of its allies.
A $2 million reward has also been placed on his head under the US Department of State's Rewards for Justice programme because Pakistan misinformed the US about its commitment to eliminate terrorism. In November 2010, the US Treasury branded him a Specially Designated Global Terrorist.
He is a mastermind of terrorism, and the union territories of Jammu and Kashmir have suffered due to his actions and relationships with terrorists.
Makki oversees the department of political relations for the terrorist organisation Lashkar-e-Taiba (LeT) and serves as its deputy leader. However, the division specialises in radicalising and enlisting young people into terrorist organisations, bringing them into a life of terrorism and carnage.
He is the leader of the core missionary squad of the Jamaat ud-Dawa (JuD), which has previously assaulted minorities in Pakistan by enforcing forced conversions and kidnapping them.
As the head of the departments mentioned above, Makki orchestrated the following attacks: the 26/11 Mumbai terrorist attacks, the Red Fort Attack on December 22, 2000, the New Year's Day 2008 attack on the Rampur CRPF Camp, the February 12–13 attack in Karan Nagar (Srinagar), the May 2018 attack in Khanpora (Baramulla), the June 2018 attack in Srinagar, and the August 2018 attack in Gurez/Bandipora.
Despite Makki's arrest by the Pakistani government in May 2019 and his conviction and imprisonment for financing terrorism by a Pakistani court in 2020, the LeT is still active in Pakistan. It continues to threaten peace and stability in the region.