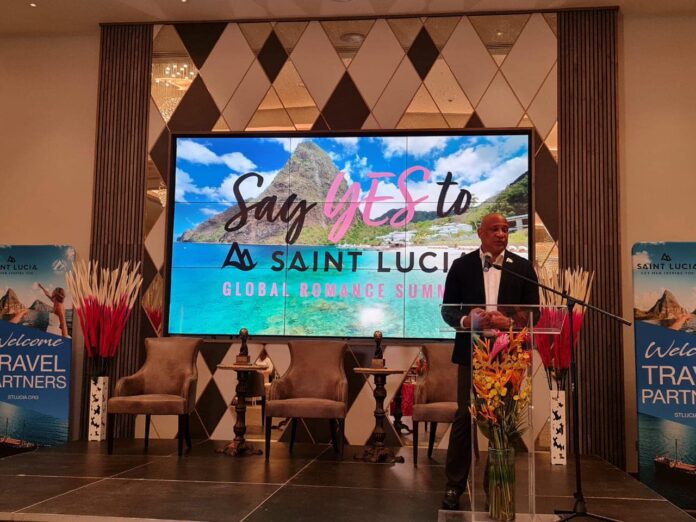 Castries, Saint Lucia: Ernest Hilaire, Deputy Prime Minister and Tourism Minister of Saint Lucia, announced that Saint Lucia Tourism Authority is once again hosting its Second Annual Global Romance Summit from October 5-9.
The second annual summit is underway; Minister Hilaire attended the meeting at Harbor Club, emphasizing that the event is a testament to the great diversity of the island's offerings as a romance hotspot.
He noted that over two days, this event will bring together travel agents, wedding planners, service providers, hotels, media and feature speakers focusing on different aspects of the romance sector of the travel market.
The award-winning World's Leading Honeymoon Destination, Saint Lucia, is hosting the second annual Say Yes to Saint Lucia Global Romance Summit; this event was first organized in 2022 and has become a significant fixture on the Saint Lucia Tourism Authority's calendar.
As part of the Summit, Saint Lucia's romance and event suppliers are getting the opportunity to showcase themselves on an international stage, facilitating their expansion.
Several officials from the Saint Lucia Tourism Authority, Tourism Minister Ernest Hilaire, and very inspiring & successful wedding planners based in Saint Lucia and across the globe gathered during the first day of this summit. It will continue until October 9, 2023.
Saint Lucia is one of the greenest and most beautiful islands in the Caribbean, the best location for Romance and Couples. The island received 'World's Leading Honeymoon Destination' fourteen times due to their special arrangements for Weddings and Honeymoons.
Saint Lucia's majestic Piton Mountains, Caribbean-only drive-in volcano, refreshing waterfalls, spectacular hiking trails, beautiful beaches, local street parties and exclusive restaurants act like a magnet for couples looking for a honeymoon destination.
The natural wonders of the island made this island a perfect place for couples looking for a romantic break or honeymoon. With 19,000 acres of protected rainforest & 167 species of bird, it's not hard to see why so many return here year after year.
These factors are why travel experts, wedding planners, holiday planners and investors seek options in Saint Lucia. The nation has topped the charts for many years as a honeymoon and holiday destination. It is also an appealing option for high-net-worth individuals looking for intriguing investment opportunities around the world.