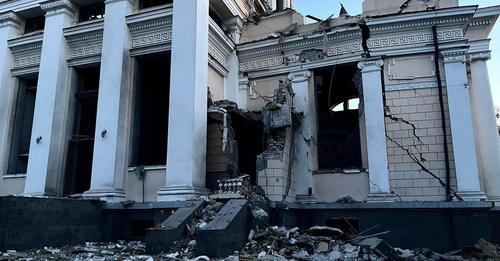 Odesa, Ukraine: Last night, on July 23, 2023, the Russian Federation again launched a massive attack on Odesa, using various types of missiles, particularly Kalibr, Oniks, Kh-22, Iskander-K, and Iskander-M. In total, the Russians fired 19 rockets at the city; nine of them were destroyed by air defence forces, the Operational Command "South" reports on Facebook.
At the same time, hits were recorded on the port infrastructure and at least six residential buildings, including apartment blocks. Facades and roofs in many buildings in the city were damaged, and windows were broken.
On one of the central streets of Odesa, the Transfiguration Cathedral of the Ukrainian Orthodox Church (Moscow Patriarchate) was damaged by a Russian missile. This temple is a UNESCO heritage site.
As per locals, six residential buildings were destroyed, two architectural monuments, the Transfiguration Cathedral, and dozens of cars were damaged.
According to Ukrainian authorities, a Russian missile severely destroyed Odesa's largest Russian-affiliated church, the Transfiguration Cathedral. Church officials claim that the roof has collapsed in half, and pictures and videos document the damage inside and outside the structure.
The incident also appeared to have hit residential areas and resulted in at least one death and 19 injuries. Currently, 14 people are in hospitals, and several homes have been destroyed.
The Ministry of Defense's official representative, Igor Konashenkov, stated in a briefing that high-precision weapons were used to target locations where "terrorist acts" were being planned against Russia using "unmanned cutters" (i.e., marine drones).
Russia did not respond to the specific information about the cathedral. "The attacked locations contained foreign mercenaries. "The strike has destroyed every target that was intended to be hit," he claims.