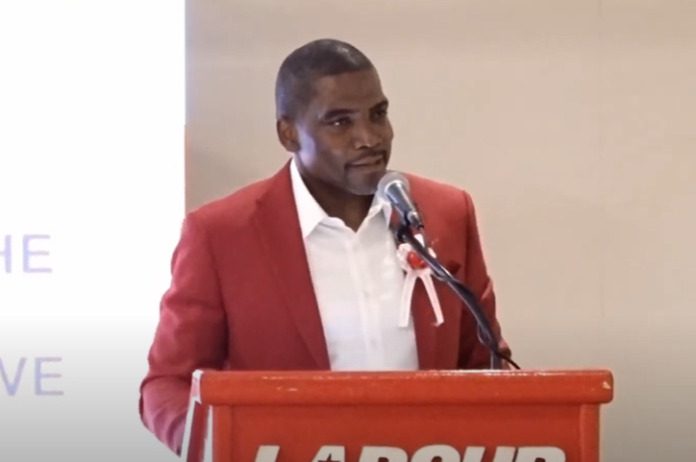 Basseterre, St Kitts and Nevis: Terrance Drew, Prime Minister of St Kitts and Nevis, has spoken to his fellow citizens during the celebration of the 91st anniversary of the St Kitts and Nevis Labour Party (SKNLP), which took place on Sunday, May 21, 2023.
The Prime Minister of twin island federation conveyed his deep gratitude and delight to the locals for their support of the SKNLP and their contributions. He spoke about the remarkable successes that the SKNLP has accomplished since he joined the office as the Prime Minister.
Prime Minister Terrance Drew and the Cabinet Ministers of St Kitts and Nevis Labour Party addressed the celebration event, appreciating the great relationship between the people and the political party. Minister Drew also highlighted the vital role and contribution of the citizens of St Kitts and Nevis to the growth and development of the country.
He mentioned that since taking control of the government on August 6, 2022, the SKNLP had a clear idea of leading the country with the appropriate strategy and plan implementation. Pm Drew added that the SKNLP government started the expansion and progress of the country the same day when he assumed the position of Prime Minister.
Minister Drew continued his remarks by saying that front-line employees of the country from various fields received honoraria from St Kitts and Nevis Labour Party government. The government recognised their efforts to support the country and boost morale in challenging circumstances.
He also emphasised that the government of St Kitts and Nevis gave equal rewards to the general populace for the first time in the Western Hemisphere's history.
PM Drew highlighted further accomplishments, he said, "The SKNLP administration also provided "double salaries" for the significant contribution of the civil servants. We went even further and established a fund for people who required urgent medical care abroad to address severe illnesses and for those who could not afford the therapy".
He mentioned that children may have died due to the previous government's lack of leadership and failure to take the necessary precautions. They are now safe and with their families due to prompt medical attention received at modern high-tech hospitals.
He added that the SKNLP has also lowered the interest rates on student loans for higher education to 5% and given students more options for quickly repaying the debt.
In the end, Prime Minister Terrance Drew explained that the government has been working to give young people better facilities for their education, as education is a fundamental human right. The St Kitts and Nevis Labour Party has already taken the necessary actions to support the youth's education and will continue to do that.