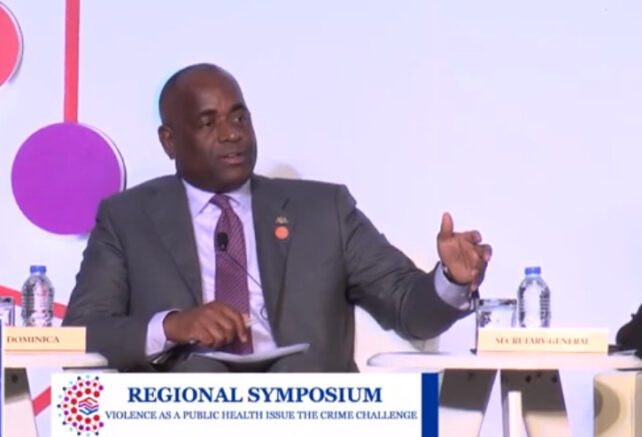 Roseau, Dominica: Roosevelt Skerrit, Prime Minister of the Commonwealth of Dominica, highlighted that education reform is essential during the regional summit on crime held in Trinidad on Monday to tackle the increasing rate of violence and crime in the Caribbean.
While addressing during the regional symposium in Trinidad and Tobago, he suggested the Caribbean education system must pay attention to social and moral development rather than just organising exams.
PM Skerrit said, "In my opinion, we need to conduct a comprehensive review of our education system in the Caribbean, which can further assist in reducing the crime and violence rate across the Caribbean".
Speaking about the Caribbean's educational system, Minister Skerrit explained that schools exclusively focus on getting students ready for exams, leaving no time in their five hours to focus on the growth and welfare of the kids.
He emphasises that in order for children to develop morally and avoid engaging in criminal activity, the school sector must devote special attention to their moral development.
The regional educational system has reportedly changed from seven subjects per student at CXC and GCE to 15 and 18, respectively.
Minister Skerrit outlined that the education sector also increased the number of subjects offered to the students. However, sports and physical education are now in the background, and no extracurricular activities are in the classroom.
According to him, the Caribbean education sector only focuses on students' grades and ignores the children's mental and emotional state. He also accuses various groups in society who are abdicating their social responsibilities.
According to PM Skerrit, various societal segments must spend more time considering how they might help their respective nations address their socioeconomic problems. He claimed that upgrading the educational system will encourage future generations to take the right path.
The Dominican Prime Minister displayed the statistic of crime and violence in Trinidad and Tobago from 2011 to 2022. Almost 5,439 individuals were violently murdered with imported firearms and ammunition.
The reports further display that 352 murders were conducted in 2022, the annual count was around 600, and the new record is already being questioned by the murder rate for 2023.
PM Skerrit ensured that the government is working on an alternative solution for the problem and education system will play a keen role in it. Upgrading the education system and encouraging moral and personality development is the best way to reduce the increasing rate of violence in the Caribbean.