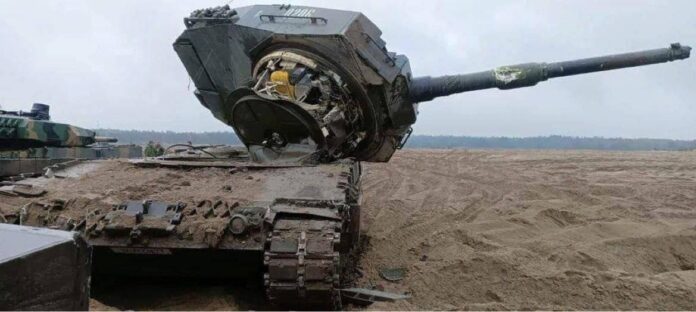 A German-made Leopard 2A4 main battle tank was destroyed in Poland during training when two tanks collided, the Russian Embassy in London announced via their official Facebook page.
One tank sustained significant damage after a collision tore off its turret. The destroyed Leopard 2A4's turret can be seen coming apart from the vehicle in pictures of the tank shared by the Russian Embassy in London on their official Facebook page.
The Russian Embassy wrote, "At least minus one Leopard 2A4 tank, great job!" mocking the Ukrainian armed forces and other nations supporting Ukraine in its conflict with Russia.
Regarding the crew members operating those two Leopard tanks when they collided during training in Poland, there is no information made public by Warsaw or Kyiv about whether they were injured or safe. To assist Ukraine in its war with Russia since February 24, 2022, Poland sent those tanks to Kyiv on the 1st anniversary of Russia Ukraine War.
Piotr Pavelka, a former officer in the Polish army, informed through his youtube channel that the Ukrainian military, receiving training in Poland to operate Leopard 2 tanks, was involved in a minor accident resulting in touring the turret of another Leopard 2A4 tank. He claims it's not a big deal; minor accidents always happen during training.
Pavelka spent 15 years in the Polish army until leaving in 2022. He is a lieutenant in the reserve military. Even though his statements sparked a vigorous conversation about the incident on social media, there is no official statement from Kyiv or Warsaw.
Poland's defence minister pledged to provide 14 Leopard 2A4 heavy tanks to Ukraine on March 14, 2023. He added that Warsaw might, if necessary, dispatch two units of advanced Leopard 2 to Ukraine.
The German-made Leopard 2A4 tanks are some of the oldest ones in service since 1985. Additionally, Germany kept its promise to send 18 Leopard 2 main battle tanks to Ukraine and granted import permits to other nations so they could do the same.