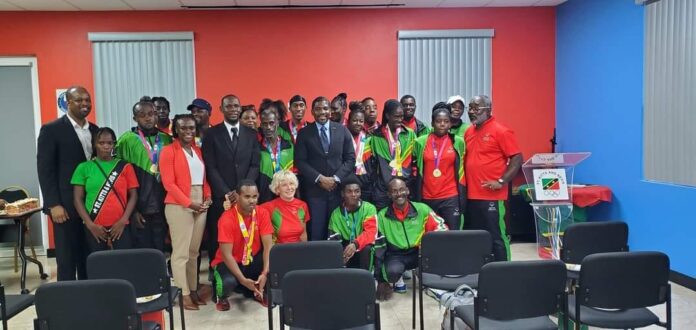 Basseterre, St Kitts and Nevis: Terrance Drew, Prime Minister of St Kitts and Nevis, extended his heartfelt congratulations to the Special Olympics team of St Kitts and Nevis who represented the country during the Special Olympics that took place in Berlin (Germany) in 2023.
After the completion of the successful session, the Olympians of the twin island federation returned with medals and glory. They received compliments from several residents of St Kitts and Nevis as well as from all around the world for the remarkable performance they displayed in Berlin.
On his official Facebook account, Minister Drew proudly wrote, "After an outstanding performance and winning multiple medals in various sports categories, the team has returned to their homeland.
The Prime Minister also expressed how happy and proud he felt over the accomplishments of the athletes who went to Special Olympic Games in Berlin.
He continued by saying that the Olympic team's success had improved the nation's standing and brought significant achievements by setting new records in the competition held in Berlin.
The celebration to welcome the Olympians back after their successful play during the Berlin Special Olympics was hosted by the Ministry of Youth Empowerment, Ageing, and Disabilities in recognition of their crucial contribution to the sports sector's growth.
Prime Minister Terrance Drew also expressed his joy by participating in the young athletes' welcome-back ceremony.
Additionally, he urged the local residents to give a Heroes Welcome to the athletes of St Kitts and Nevis. While extending his greetings, Minister Drew wrote, "We are proud of you. The entire country is proud of the Olympians. Excellent work! You really deserved this".
The Ministry of youth affairs of St Kitts and Nevis conducted a ceremony to honour the athletes on June 28, 2023. The function was organized at Robert L. Bradshaw International Airport.
The people of St Kitts and Nevis were proud of the team's success and expressed their appreciation for special Olympians who represented their country in Berlin.