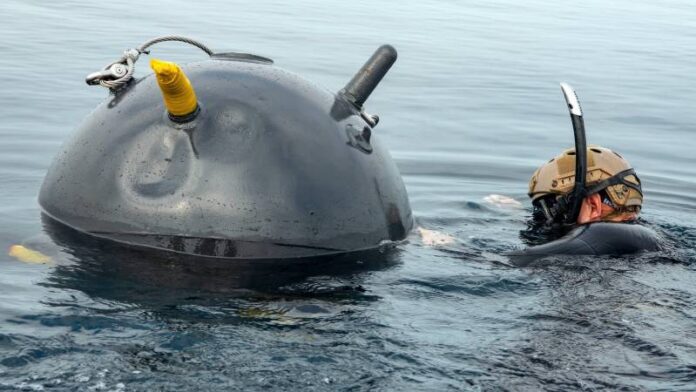 Sofia, Bulgaria: In a recent social media post, NATO showcased Bulgaria and Türkiye's dedicated mine clearance efforts in the Black Sea, aimed at addressing the problematic situation posed by drifting mines following Russia's attack on Ukraine.
A group of ships of the Bulgarian and Romanian navies has started trawling (searching for and neutralizing sea mines) along the coast of Bulgaria, Andriy Klymenko, the head of the monitoring group of the Black Sea Strategic Research Institute, said.
Since Russia started its war against Ukraine, NATO Allies Bulgaria, Romania and Türkiye have had to clear mines that have drifted into their waters.

Our video producer joined the 🇹🇷 Turkish Navy as they train and exercise for this dangerous job

— NATO (@NATO) October 31, 2023
 The decision to start trawling was made on October 12, 2023, at a meeting in the Ramstein format in Brussels, and on October 16, the ships already went to sea.
The operation to search for mines is not limited to the territorial waters (12-mile zone) of Bulgaria but extends to the adjacent water area, through which the routes of bulk carriers of the new Ukrainian grain corridor pass.
Coastal States Bulgaria and Romania are focused on the success of minesweeping operations to clear mines' inner waters and bordering recommended lanes in international waters to make navigation safe from mines.
A joint group was established, embracing some 5-6 Bulgarian mine sweepers and frigates and Romanian mine sweepers.
The joint operation is also focused on resuming Ukrainian grain exports, threatened by Russian mines present in the region.
The Ukraine's Black Sea grain corridor, which has so far transported 700,000 tonnes of grain, was temporarily suspended on October 26 due to a threat from Russian warplanes and sea mines in the black sea.
The Ukrainian media outlets claim that an unidentified cargo ship struck the mine in the Black Sea and sustained damages; she had to sail to Odesa or Ilyichevsk for repairs.
The ship was hit, most probably, on October 18 while it was in the Danube Delta area. The ship might be identified as bulk carrier IDA, according to ship tracks and video, but it is not confirmed.
According to the UK Government, intelligence data reveals Russia may use sea mines to target civilian and Cargo ships in the Black Sea to deter the export of Ukrainian grain.