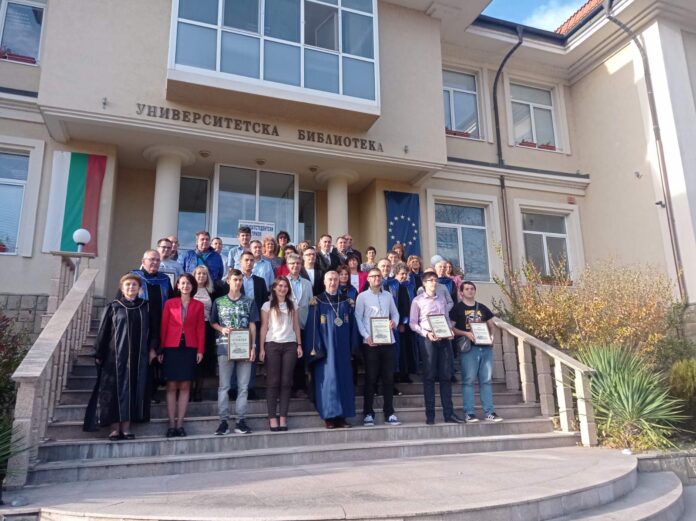 Four students and four professors were awarded at the Solemn Academic Council of Technical University – Gabrovo on the eve of the Day of the People's Educators.
With him, the educational institution celebrated the 100th anniversary of the birth of Prof. Vesel Savov – the First Rector and Doctor Honorary Cause of the Technical University – Gabrovo and Honorary Citizen of the city of Gabrovo.
The academic and student community were congratulated by the Engineer. Maria Basheva – Regional Governor of Gabrovo Region.
She said, "On the eve of one of the brightest holidays, National Awakening Day, I would like to express my appreciation to the entire academic community, thanking you for the energy, professionalism and effort you put into your work".
"I wish you to be healthy, happy and satisfied with what you are doing, proud of the successes of your students, who are our future.
"Let's wish ourselves a bright and peaceful future, and through you, I know that Gabrovo Region will continue to be a home for Buddhists and a centre of education and enlightenment.", Maria Basheva said.
Prof. Zhelezarov – Rector of Technical University – Gabrovo, presented certificates and awards to teachers and researchers who have grown in their academic development by acquiring scientific degrees and holding academic positions.
These are the gl. ace. Dr. Engineer. Matyo Dinev and others. ace. Dr. Engineer. Hristo Yakimov obtained the educational and scientific degree "Doctor", Associate Professor. Dr. Engineer. Valentina Rankovska has held the academic position of "assistant professor", and prof. Dr. Engineer. Angel Anchev is the new professor of TU-Gabrovo.
Students also received cash prizes and certificates for scientific and sporting achievements. Simeon Slavkov and Christian Dimitrov received awards for successful performance in the National Competition on Applied Electronics.
Student Vladimir Zhivkov was excellent for winning a silver medal in the National Student Olympiad in Mathematics, and Benislav Dimitrov received an award for excellent performance at the World Karate Championship – 2023.