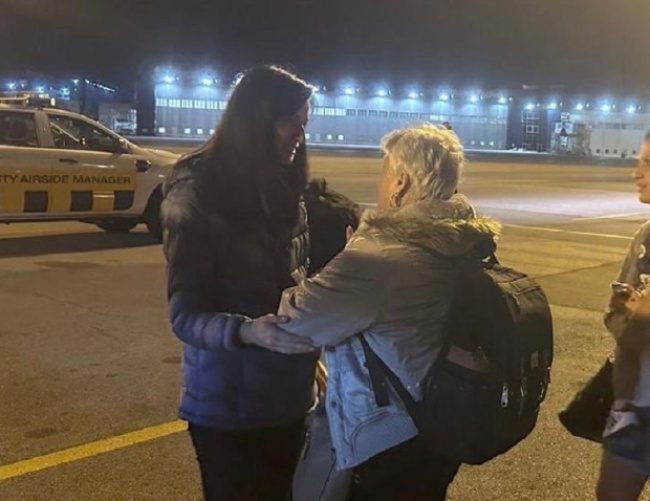 The Bulgarian Government aircraft yesterday arrived at Sofia Airport around 1:00 AM, carrying 96 passengers from Tel Aviv (Israel), most of whom were Bulgarian citizens, says Foreign Minister Mariya Gabriel.
They had been trapped in Tel Aviv due to the conflict between Israel and Hamas. The passengers also included Israeli relatives of some of the Bulgarian citizens.
Upon arrival, Mariya Gabriel, Deputy Prime Minister and Minister of Foreign Affairs, welcomed the returning Bulgarians and conducted a brief health check to confirm if anyone required medical assistance.
She remarked that the government aircraft will operate flights as long as possible and as long as needed. She thanked Georgi Gvozdeikov, Minister of Transport and Communications, for their excellent coordination and timely action since the beginning of the crisis situation.
She announced that on the State Department page, an MFA. Bg is a banner available, giving access to constantly updated information to assist the Bulgarian compatriots in need.
Foreign Minister Mariya Gabriel highlighted that data about Bulgarian persons located on the territory of Israel can also be sent electronically to the Situation Center in the Ministry of Internal Affairs at crisis@mfa.bg and by phone to help the Bulgaria people trapped in Israel due to ongoing war.
The Foreign Ministry issued two numbers to share details-
+359 2 948 24 04
+359 2 971 38 56
The Bulgarian individuals still in Israel can call Embassy of the Republic of Bulgaria in Tel Aviv for help calling two emergency phone numbers mentioned below-
+ 972 54 764 0089
+ 972 54 595 4379
Foreign Minister Gabriela mentioned that Bulgarian Government aircraft will continue operating as long as it takes to bring home the Bulgarians unable to return due to the ongoing conflict.
Israeli Prime Minister Benjamin Netanyahu declared the country at war with Hamas after they launched a surprise attack on Israel with missiles and multiple troops, killing hundreds of innocent Israeli residents.
The war entered its seventh day since October 7, with Israel launching numerous airstrikes and missile attacks on Hamas in retaliation.