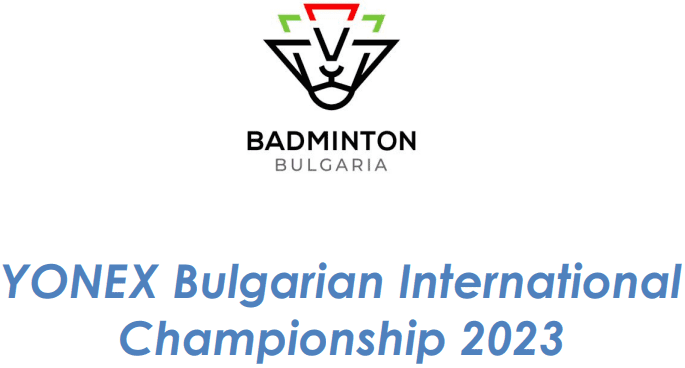 Sofia, Bulgaria: Seven Bulgarian competitors reached the quarterfinals of singles and doubles at the international badminton tournament Yonex Bulgarian International Championship 2023, held at Badminton Center Europe in Sofia.
The Bulgarian Badminton Federation congratulated the players for their success and wished them good luck in their upcoming competitions.
European champion for girls under-19, Kaloyana Nalbantova, who is placed at number 1 in the women's scheme, hardly beats Mu Lin Ngan (󠁧󠁢England) with 21:14, 7:21, 21:12 in 44 minutes. In her second match of the tournament, Nalbantova reached a third game, in which she led convincingly and reached the ultimate success.
Kaloyana will play tomorrow against Natalia Slobodova (Slovakia) in dispute for a spot in the semifinals. In an all-Bulgarian clash, number 6, Gergana Pavlova defeated Mihaela Chepisheva with 21:14, 21:19 in 26 minutes, and tomorrow, will go up against the third in the scheme Milena Schnider (Switzerland).
In pairs of women in the quarterfinals, the leaders in the scheme, Mihaela Chepisheva / Tsvetina Popivanova against Kim Matovic and Zoya Novak (Slovenia), as well as Gergana Pavlova / Tanya Ivanova against number 2, Anne Fuglsang and Laura Floy Tomsen (Denmark).4
Ivan Rusev and Iliyan Stoinov, number 1 in the men's doubles scheme, defeated Andre Irpola and Depak Pilay (Sweden) with 21:13, 21:12 in 26 minutes. Their next rivals are Anel Ulach Atan and Mirach Kantar (Turkey). The quarterfinals of the tournament begin on Saturday at 10.00 in the Europe Hall.
A perfect first day for the 3x European Champions and 2 European Games title holders – Stefani Stoeva and Gabriela Stoeva have qualified for the quarterfinals of the Challenge International Badminton Tournament in Glasgow (Scotland) with a prize fund of US 15,000 dollar.
Gabriella and Stephanie, who are number 1 in the chart and rested in the first round, easily defeated Abigail Harris and Annie Lado (England) with 21:8, 21:14 in 34 minutes, after leading the scoreline throughout the meeting.
In dispute for a place in the semifinals, Stephanie Stoeva and Gabriela Stoeva will play tomorrow against the representatives of Denmark, Amalia Cecil Kudsk and Signe Schultz.