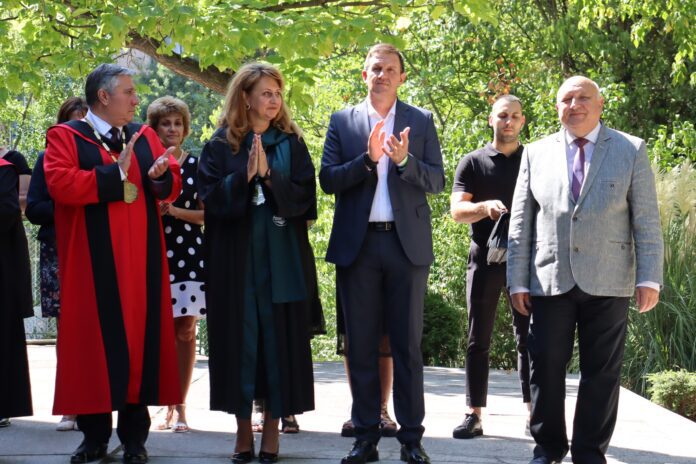 Haskovo, Bulgaria: Mayor of Haskovo Municipality Stanislav Dechev congratulated the Haskovo Branch of Thracian University of Stara Zagora for opening the new academic year 2023/2024. During the ceremony, he visited the university and commended the university staff for beginning another academic year.
Later, Mayor Dechev addressed the students, wished them a successful year full of knowledge and encouraged them to bring glory to their hometown and country. He urged them to begin the new academic year with a new focus, optimistic and full of dedication.
Mayor of Haskovo Municipality Stanislav Dechev congratulated students and teachers of the university. During his speech, he said, "I'm sure you won't forget the first day of school, just as you won't remember your first meetings with your colleagues and teachers."
He added, "However, I know that first impressions of Haskovo are also crucial. That's why I'm glad to welcome you to a clean, green and modern city today".
Mayor Stanislav Dechev also addressed the Rector of the Thracian University of Stara Zagora, Professor Dobri Yarkov, with the words: "In my face, as Mayor of Haskovo, you have my full support for any new idea to establish the Haskovo Branch as a preferred higher school and for the implementation of joint projects for young people here."
Associate Professor hosts the ceremonial ceremony. Dr. Tanya Paskaleva – Director of the Higher Medical School. She said that in the new academic year, a record number of first-year students will be trained in Haskovo. Ninety students have chosen to study the specialities of nursing, midwifery and Chinese therapy.
Guests at the opening of the new school year were the Regional Governor of Haskovo, Ginka Raicheva, the Rector's Board of Thracian University, the Directors of the Multidisciplinary Hospitals in Haskovo and Kardzhali, representatives of medical structures from Haskovo, parents of freshmen.