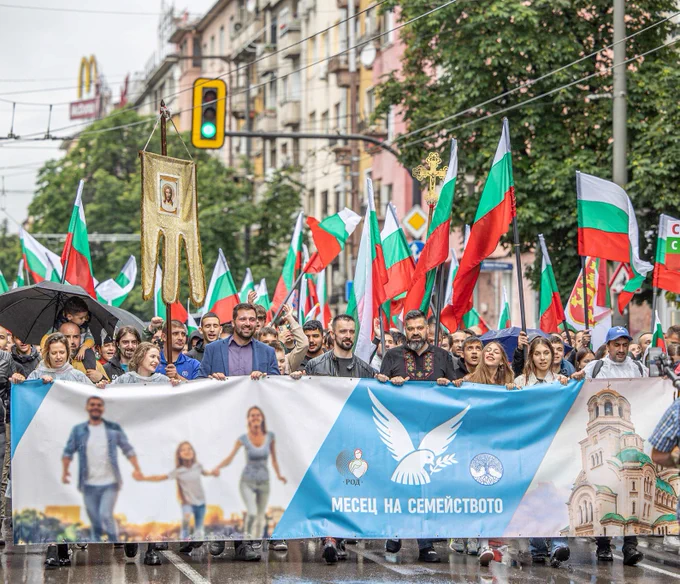 Sofia, Bulgaria: After Serbia, Family Pride parade conducted on the streets of Bulgaria in which several Bulgarian nationalists participated with their children opposing gay pride month, calling it a threat to traditional family values.
Bulgaria is the second Eastern European nation to conduct a family Pride parade after Serbia. As per the participants, the primary reason behind this parade is to save the traditional family values regularly under threat by LGBT values.
Family Pride parade in Bulgaria. This is what the world needs more of. pic.twitter.com/6BpBsHD1UR

— End Wokeness (@EndWokeness) September 4, 2023
The protestors carried country's flags, and children demonstrating the meaning of family opposing LGBT traditions and calling their values a great threat to family traditions.
In Serbia's capital, Belgrade, thousands of residents conducted a march to halt Gay pride parade expected to begin next week during September 2022. The parade was banned due to massive protests against LGBT traditions, and Serbian Orthodox Church also played a significant role.
In Bulgaria, 69.5% of the population identified Eastern Orthodox Christian. Serbia has 81.1% of population believes in traditional values of Orthodoxy. Religious beliefs and traditions are significant factors why the populace of both nations doesn't want LGBT communities to conduct pride marches.
In 2015, the Bulgarian Orthodox Church also calls for the cancellation of Pride March in Sofia due to the threats raised by the protestors. The Church strongly condemns conducting LGBT marches, calling it propaganda of homosexuality and attempts to destroy Christian and Orthodox values.
As per the protestors, Bulgarian Family Pride March carried the message of conserving traditional values of families continuously under attack by LGBT propaganda.
Instead of Bulgaria and Serbia, the residents of various Balkan nations, including North Macedonia, Greece, Kosovo and Bosnia, didn't want LGBT activities to be conducted in their communities.
LGBT communities keep calling it homophobia or hate speech, while others call it protecting traditional family values from scary propaganda.