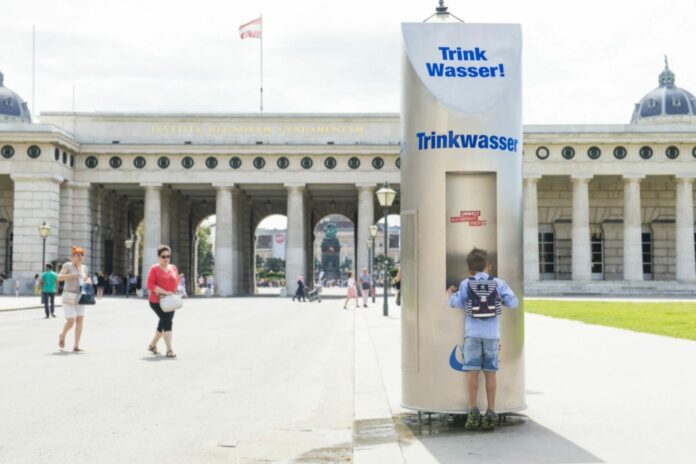 Sofia, Bulgaria: Desislava Bileva, deputy mayor of Stolich, noted that a new innovative fountain, utterly identical to the favourites of Viennese urban cooling oases, has been installed in the kindergarten next to the Ivan Vazov National Theater and is the second of its type in the territory of the city, after the first, to the National Palace of Culture.
Since its installation, the locals are enjoying and loved it very much. The fountain is made of stainless steel and will be brought in Stolich in the winter. Deputy Mayor Bileva mentioned that it is borrowed from the Vienna municipality, whom she thanked for shared experience on sustainable green solutions.
The fountain is connected to the water pipe and has filters for purification and heat; there is a watering button. By the end of the year, such fountains are to be installed in two more places in Sofia, one of which will be in the Iskar region.
A total of 186 fountains are currently on the territory of the Metropolitan Municipality and are maintained by both regional mayors, as well as the Directorate of Green Systems and the municipal corporation "Parks and Gardens".
Deputy Mayor Beliva recalled that the Mayor of Sofia, Mrs. Yordanka Fandakova, demanded a separate budget for the fountains. She thanked her for assistance in reconstructing four facilities – one in the Camp, one in the Hope Park, and in the Boris Garden, restored two fountains – to the Observatory and the lake with lilies.
She emphasises that the Sofia Municipality will continue to enrich the city and appreciates her colleagues and the staff of the Metropolitan Inspectorate, who monitor the performance and order of all these facilities, for the energy and effort they put into having a clean, green and beautiful Sofia.