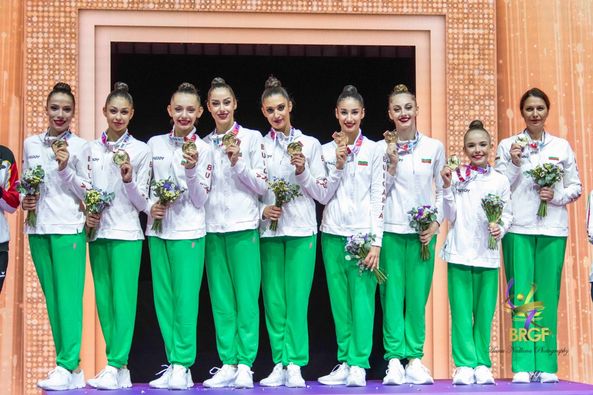 Four medals were won by the Bulgarian gymnasts at the World Championship in Valencia. Boryana Kalen won two silver medals in the bat and tape finals and the Olympic quota.
Styliana Nikolova placed third on the ball and grabbed bronze. After a 30-year pause, Bulgaria also triumphed with the team title of the championship thanks to the appearances of Boryana Kalain, Styliana Nikolova and Eva Brezalieva, who represented Bulgaria in the individual race and women ensemble Jenina Trashlieva, Sofia Ivanova, Camelia Petrova, Rachel Stoyanov and Radina Tomova.
Image Courtesy-Image Courtesy-facebook)
Laura Hristova won three world titles at the Women's Summer Biathlon World Championship in Oserble (Slovakia). Our talented racer triumphs in the super sprint, sprint and pursuit. Another medal in the sprint added Valentina Dimitrova, who placed third.
Bulgaria's young hope in Olympic Taekwondo, Kalina Boyadzhieva, won the women's and girls' titles at the European Championships in Tallinn (Estonia). With a bronze medal and a strong performance in the girls, Erika Karabeleva also reported.
Bulgarian competitors from the ITF Taekwondo World Championship in Astana, Kazakhstan, returned with 12 medals. Gold medals were won by Kiril Iliev (cat. up to 52 kg sparring), Nikola Nikolov, Deni Velev, Anton Ogorelkov, Lubomir Bakalski and Kiril Iliev (team unique technique) and Rami Shau (kat. up to 78 kg sparring).
Silver medals in sparring were won by Deni Velev (kat. up to 92 kg) and Anton Ogorelkov (cat. up to 58 kg), as well as Jordan Staev in the "strength test" discipline.
Lilia Mitreva and Ivet Vasileva (cat. of) were awarded bronze medals. up to 62 kg sparring), Nikolay Petkov and Lubomir Drakaliyski (sparring), Bulgarian team in the discipline of self-defence – Vasilena Yordanova, Lubomir Bakalski and Deni Velev, as well as in the disciplinary strength test consisting of Catherine Beycheva, Catherine Gemkova and Lilia Mitreva.
The Bulgarian athletes also performed well at the World Summer Student Games in Rio de Janeiro, Brazil. Lachezar Valchev triumphs with titles in the long and triple jump.
Eleanor Bocheva won a silver medal in 800 m and a bronze in 400 m. Denitsa Uzunova finished second in the triple jump, and Nikolina Radeva received bronze medals in bullet pushing and disc throwing.
The Bulgarian boxers won 6 awards at the European Championship for Students in Maribor, Slovenia. Nikolay Nikolaev (52 kg) won a silver medal, and Georgi Galabov (44 kg), Ivo Dimitrov (54 kilograms), Bozidara Raicheva (38 kilograms), Roberta Hadzhiyska (46 kg) and Camelia Zhelyazkova (51 kg) were congratulated with bronze honours.