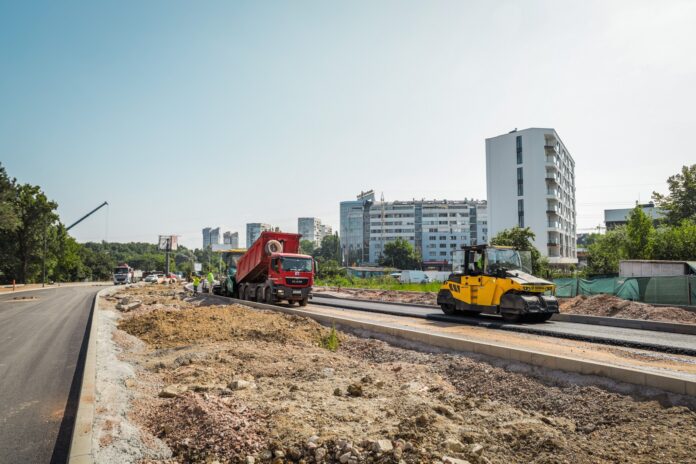 Sofia, Bulgaria: Yordanka Fandakova, mayor of Sofia, informed through his official Facebook account that Sofia Municipality started asphalting a section of the brand-new Philip Kutev Boulevard.
She stated that it is part of the third city ring with which the Municipality is building a link between Boulevard"Bulgaria" and Boulevard "Simeon Highway".
This is a strategic project to unload traffic in densely populated southern neighbourhoods and one of my priorities, along with the metro and the Southern Rainbow, which is already built.
Mayor Fandakova expects this section between the street to be finished by the end of October. Silverna and the intersection of Blvd. "G. M. Dimitrov and Boulevard "Simeon Highway". It will be a bus, with bicycle lanes on both sides, with wide sidewalks and energy-efficient lighting.
She noted that on September 15, the Municipality will restore traffic on Boulevard "G. M. Dimitrov" after constructing several hundred meters of sewage.
The mayor of Sofia remarked that Sofia municipality will have full readiness to start construction of the southern canvas of Blvd—Philip Kutev between the street. Silver and St. "Atanas Dukov".
She expects the Regional Manager to complete the procedures for providing the last remaining land owned by the University of Sofia. With the new blvd "Filip Kutev", Sofia Municipality will create a link between Boulevard "Black Peak" and Boulevard "Simeon Highway".
Miss Fandakova informed that the Boulevard "Todor Kableshkov" breakthrough from St. Louis Ayer to Black Peak is also ready to start. Unfortunately, the Municipality can't reach an agreement with the owners of the remaining private property, who want too much money and appeal all orders.
She stated that Municipality will start the primary repair of the block key. "Cross Water – West" St. "Emilian Stanev". They have divided it into stages to make it easier to access for the residents and building it as regulation, having previously confiscated 60 private properties that fell within the street's reach.