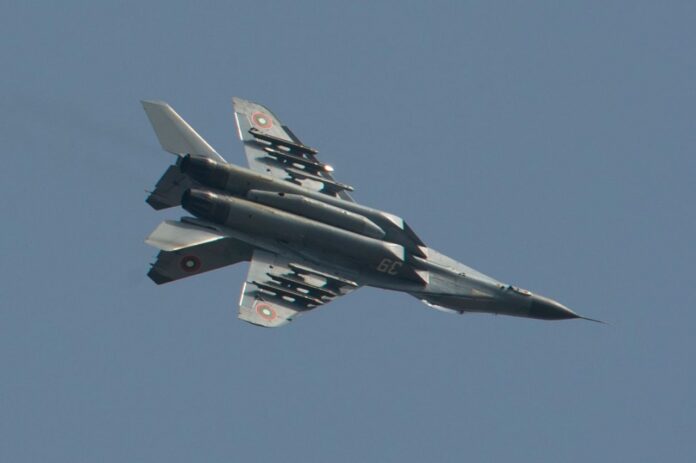 Sofia, Bulgaria: Bulgaria has signed a deal with the Polish defence company Wojskowe Zakłady Lotnicze for the renovation of 6 MIG-29 fighter jet engines. Bulgaria currently has 13 MiG-29 fighters, six of which need renovation and new engine parts.
On November 11, 2016, the government of Bulgaria signed a 21.8 million euro contract for 10 MiG-29 engines (four new and six rebuilt)and restored them to fly till 2023. The country is again looking to regain its surviving aircraft with Poland's assistance.
Now, Bulgaria has signed a €9.5 million agreement with Polish company Wojskowe Zakłady Lotnicze to overhaul six MiG-29 jet engines.
The overhaul will be carried out "to ensure the airworthiness of MiG-29 aircraft until they reach operational capabilities for combat duty with the new F-16 Block 70 combat platform," the Bulgarian Ministry of Defence said in a statement.
Additionally, Bulgaria is interested in sending them to Ukraine if they receive replacement planes fulfilling the requirements of the Bulgarian air force.
After the retirement of the Soviet Era's Mig-29, the Bulgarian airspace will be left relying on NATO's air defences as Bulgarian only six operational MIG-29s will be off duty due to renovation or may get transferred to Ukraine. Bulgaria is discussing the transfer of MiG-29 fighters to Ukraine – on the condition that the country receives modern combat aircraft in return.
On the other hand, On August 3, the Bulgarian government approved a draft agreement between the Ministries of Internal Affairs of Bulgaria and the Ministry of Defence of Ukraine on the donation of 100 armoured personnel carriers.
This is the first time that the Bulgarian side has transferred armoured vehicles to Kyiv directly rather than through intermediaries, as it had before. At the end of June, Bulgaria approved a new military aid package for Ukraine, the details of which were not disclosed.